Well to update everyone on our Ebay plans, we have not done much on the auction sites yet. The reason being is that I want to research as much as possible before we get started. I am still looking into the legitimacy of the sites I found as well as practicality. I will be sure to inform you of any updates as they become available.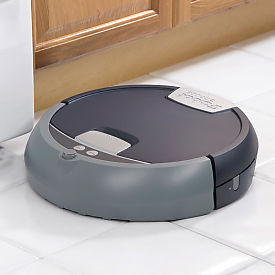 This machine cleans floors without you doing a thing!
What's New?
Todays news is exciting because it just happened to fall in our lap. My wife was out one day doing her Goodwill rounds and happened upon an iRobot – Floor Cleaning System. She immediately called her dad who then looked it up on Ebay and reported that they were selling for much more than $100. If you visit the iRobot Official Site they are selling for $499 for the newest models brand new.
How much did we sell ours for?
We listed the starting price at $80.00 and the "Buy It Now" price at $139. In just a little over 1 day our item reached 11 watchers and ended up being bought before the listing ended for $139. Some of the iRobots have sold for more than $200 but we wanted to be the lowest price available. Our low initial starting price is what brought in the watchers and we believe had we had our buy it now price a little bit higher the winning bid would have surpassed the $200 mark. Because our buy it now price was extremely low it never made it to the end of the 7 day auction.
What did we learn?
We learned that the low starting price works to get people interested. We also learned that we could have turned $35 into much more than a hundred dollar profit. We are still very happy with what we ended up with though and have no complaints. We are still fairly new to the Ebay game so we cut ourselves some slack. 🙂
Why am I telling you this?
It is really quite simple. I care about each and everyone of you killing your debt. I want to share our success and our failures with you to help you become as successful or more, and to avoid the problems we face along the way. If you are sitting at home wondering how in the world you are ever going to save that initial $1000 to fund your Emergency Fund, I have provided you with your answer. You need to go to yard sales, visit Goodwill, the Salvation Army, and in MOST cases just walk around your house. There is no reason why you should continue to be a slave to debt anymore!
The decision to become debt free is actually a very easy one. Most people want to be debt free, but the truth is that most of us are not willing to do what it takes to make it actually happen. It takes work! It takes sacrifice! It takes discipline! It takes resolve and determination, but most of all it takes a desire to free yourselves from the bondage that keeps you from winning! Free yourself by becoming debt free and experience a feeling like you have never experienced before financially! Experience HOPE!!! Learn more about the debt free process and become debt free TODAY!
Are you scared of Ebay?
Selling On Ebay Is As Easy As 1-2-3!
The Auction Rebel – This website is absolutely awesome! It has so much useful information for people trying to make an honest living by selling on Ebay! Tips, advice, and even what to sell can be found on this awesome site! I hope you find it as helpful as we have.
There are many more places to go to learn about eBay so all you have to do is do some research. Don't be afraid to look around. You will certainly be amazed at all you find! GOOD LUCK!!