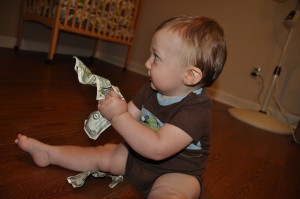 One of the main driving forces behind my own blog, The Debt Princess is to stop others from going down the dark path that debt took me down. I want to remind people of the dangers of debt and encourage them to take care of their own finances. I also try to encourage my readers to speak to their own children about money.
I am working diligently with my own kids to make sure that they are not following in my footsteps. Offering allowances in exchange for chores, is one great way to teach about money. I like to be more secretive when I am teaching my kids about values that I find important. I don't want to appear as if I'm preaching on a regular basis. One of the ways I am doing this is to find moments throughout our day to teach to them. Some of the moments are spontaneous and authentic, while others are more planned.
At The Grocery Store
There isn't a better opportunity to teach your children about money than when you are out shopping. Discussions about regular price and sale price as well as using coupons and budgeting are easily had while walking down the aisles.
On a recent shopping trip, I had my 9 year old be responsible for our budget. He held the cash and the calculator. As I put items in the cart, he added them up and kept track of the grand total. I sabotaged him slightly by buying more than what was on our list.
I posed him the question, "What we have in the cart cost more than the money that we have. What should we do?" I was happy to hear him choose to put back the two extra treats that ended up in the cart.
Family Game Night
We love family game night in our household. There are so many teachable moments built into the hours of fun. Not only can they improve on their academic skills but also sportsmanship, deductive reasoning and the rules of fair play.
I have made sure to include specific games into our rotation to help with my children's financial education. I love the games Payday for my 9 year old and Monopoly Jr. is great for my 6 year old. As they get a bit older, The Game of Life and Monopoly are great choices and ones I can't wait to play with my boys.
Story Time
Another great time to sneak some financial education into your day is at story time. Whether you are reading a story to a preschooler or one who is older, you can find plenty of books on the topic of money and finances.
A quick trip to the library will net you dozens of books in both fiction and non-fiction. One of our favorites is Alexander, Who Use to Be Rich Last Sunday by Judith Viorst. This is a great lesson about spending your money on impulsive purchases. A definite must for anyone who wants to include teachable moments into their day.
These are just a few ideas on how you can incorporate financial education into your child's life. There are bound to be more opportunities for you and your children to discuss money.
Can you think of any other times when financial education can be incorporated?