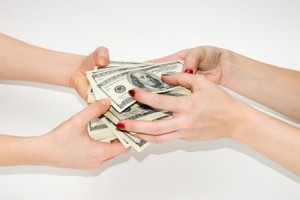 This past March I loaned money to a fellow single mom friend who was in financial crisis: She and her son were about to be evicted from their apartment.
Anyone that knows me relatively well knows that I would do whatever I could for someone in need; a Good Samaritan. I learned this behavior from my father; when I was little he would help stranded roadside motorists and offer his services (he was a mechanic) for "free" or "in trade" for those who couldn't afford it. While this type of behavior certainly didn't make him rich financially, I truly believe he is living the life he wants to. So I have approached my life in much the same way.
Being a Good Samaritan is not always sunshine and roses as sometimes you get taken advantage of; case in point the interest free personal loan to my friend in need.
Here's how it Went Down
Friend: crying, sobbing, sniffling "I need your help…."
Me: "What's wrong? Are you ok? Is your son ok?"
Friend: "Yes, we are okay, but I am going to be evicted if I can't pay my last 2 months rent."
Me: "Wow, really what happened? How did you get so far behind?"
Friend: "It was a bunch of stuff really; I haven't been getting my child support, my car died, and my credit card payments are out of control."
Me: "I am so sorry to hear that all this is happening, do you want me to take a look at how you are managing your money and see if I can help you with your budget?"
Friend: "Yes that would be great, but I really need to pay the $1500 by the end of the week or we are going to be homeless! I only get paid once a month and I just got paid last week; I'll pay you back with my next paycheck." more crying, sobbing, sniffling….
Me: "Ok, I don't want that to happen; I happen to have that in my emergency savings, I'll write you a check."
So what do you think happened? Are you thinking, sucker, she just got taken, who loans that kind of money to people? If you are, you are not alone; my parents were furious with me when I told them what I had done as was my boyfriend. They all said I was being naïve and that in all likelihood I would never see that money again.
Fast-forward to Today…
We are now rapidly approaching the end of September; it has been seven months since I loaned my friend the money. Throughout this time when my friend and I would talk she never mentioned the "loan" I had to bring it up. Her response was always I am still trying to dig myself out of the financial hole I dug myself, I promise I'll get the money to you by next week. Next week never comes…
So in an uncharacteristic move on my part I confront her and am "not so nice". I explain that while I understand she is going through tough times I feel that I have been taken advantage of. I remind her that she hasn't paid back a penny of the loan, the least she could do is attempt to make payments. She responds with more crying, sobbing, sniffling… "You don't know how hard things are for me right now; I can't pay my car insurance bill or make my minimum payments on my credit cards, they are all going to go to collections soon. I even joined that company you work for and started a Debt Management Plan to help me with my bills."  The phone call ended with her angrily hanging up on me.
The next day she shows up at my door with $50. No conversation, no I am so sorry I can't pay you back right now, just $50 thrust through the door and a "Have a nice weekend" with a hint of disgust in her voice.
I was in complete disbelief! She is actually making me feel bad for asking for repayment of the loan that was supposed to be paid back three weeks after it was given; seven months later I finally express my feelings about what has transpired and this is what I get? Unbelievable!
Lesson learned
I will NEVER loan money to a friend or family member again! Let me be clear: I will never "loan" money again, that is not to say I wouldn't help someone with a "gift" of whatever I could afford to spare from my budget; but never again will it be money I expect to get back.
I am finally letting it sink in that I will never see the money I loaned to my friend again. I have accepted this and I will never put myself through this again.
Fool me once, shame on you. Fool me twice, shame on me
Have you ever had a relative or friend ask you for money? What was your experience? Did you get burned?