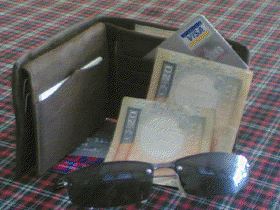 Are you planning a vacation?
Everyone looks forward to going on vacation. It's the time of the year when people can cut loose and enjoy some quality time with friends and family. However, it's an easy mistake to make to 'enjoy' yourself a little too much before you realize upon your return that you've spent too much.
Being frugal on vacation can be tricky because you don't want to be watching every last dollar all the time and you'd much rather have a relaxing time creating memories that will last a lifetime. But you can do both and have a good time while saving money along the way. Here's how:
Image courtesy of Ahmed Rabea
Start Saving Before You Leave

All the little components that go into making a typical vacation, like accommodation, family travel insurance and transport there and back, should be available for less than you might think courtesy of the Internet. Surf the web for the best deals available and you'll be surprised by how much you can save simply by putting aside a few hours and shopping around. Take a lazy approach to booking a vacation and you can expect to overpay massively as a result. Be proactive, though, and you'll reap the rewards and get value for money. This way, you can get most of the saving done before you even get on the plane.
Go on a "Staycation"
Stay on the homeland and explore America to really keep costs at a minimum as jetting off further afield is expensive – and that's not just because of the price of plane tickets.
Utilize a Budget

The 'b' word normally strikes fear into the hearts of many of us, but it appears more difficult than it actually is. Essentially, it just means doing a bit of planning and trying to forecast what funds you've got available and how best to use that money during your vacation. Be realistic enough and you should be able to stick to your budget, although try to allow some flexibility and room to maneuver in case your plans change for whatever reason.
Get Active
Sometimes, the best way to see a new city or destination is on foot. It removes the need for traveling around on an often overcrowded public transport network, which rarely works out as cheap as it should be. If walking is not a realistic option then maybe renting a bicycle will be. Again, it's good for your wallet as well as the environment – not to mention your fitness!
Pick the Right Time and Place to go Away
Exactly when and where you go has cost implications. If possible, avoid those places that usually charge a higher premium at certain times of year, like spring break and other school vacations, and you could stand to save hundreds of dollars.
Cook for Yourself
If you're staying in an apartment or hotel sweet with kitchen facilities, it seems crazy not to use it as much as possible during your vacation. Yes, you could do without the hassle of cooking and cleaning up afterwards, but it'll save you money – and potentially lots of it. Prepare a quick breakfast for yourself (or try and stay where free breakfast is available), pack up a lunch for later in the day and you can skip the restaurants and fast-food chains more often.
Be Frugal
Resist the urge to foolishly spend money just for the sake of it because you're on vacation or about to go on vacation. Recycle and reuse as many items as possible from previous vacations and borrow items from friends and family instead of buying them brand new.
Stay Connected
The Internet can save you money both before and during a vacation so constantly keep an eye out for the latest news of any relevant deals in your new surroundings. These could range from discount incentives at expensive tourist attractions to cheaper car rental. Priceline and other discount oriented travel sites can also save you hundreds of dollars on hotels and air travel.