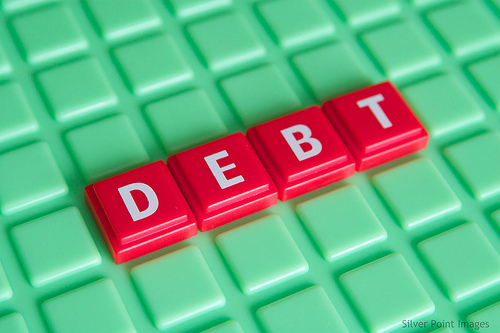 [Guest author today, Graham from MoneyStepper.com]
Getting out of debt isn't easy. But, as many inspirations in the personal finance blogosphere have proven, it's achievable. And when it is achieved, boy does it feel good!!
We see hundreds of figures every year on "The Average American" and that they are in a position of debt like never seen before. Well, today, we are going to get this average American, let's call him Tay ("The Average Yank"), out of debt for good in under 3 years, with relative ease!
The Average American's figures
To help Tay, we need to know a few things about him.
Tay is 36.8 years old (based on the median American age)
His household income is $51,017 (based on the median household income)
Federal income tax is $2,590 and Social Security is $3,903 (based on the median income)
Therefore, take home pay is $44,524
He has credit card debt of $8,200 (average household debt 2011) , at 15% annual interest
He has auto loans of $7,300 (average household debt 2011) , at 8% annual interest
He has student loans of $6,500 (average household debt 2011), at 5% annual interest
He has an outstanding mortgage of $104,000 (average household debt 2011), at 5% annual interest
Household expenses per year are as follows:

Transportation costs $8,800 ($733 pm)
Food costs $6,200 ($517 pm)
Insurance and pensions $5,400 ($450 pm)
Medical expenses $2,850 ($238 pm)
Clothing $1,900 ($158 pm)
Entertainment $2,700 ($225 pm)
Tobacco & alcohol $1,000 ($83 pm)
Electricity & gas $1,600 ($133 pm)
Note: the sum of these expenses (plus a $6700 per year mortgage payment based on the outstanding mortgage above) only equals $37,120. This leaves this Tay with over $7k per annum unassigned expenses. I raise this point as everything I'm showing is easily achievable and, in reality, could be even easier if we factor in this $7k!!
Budget assault
So, what does Tay need to do?
Let's firstly look at his budget and where to trim the fat. Then, we'll attack the loans afterwards.
I'm going to assume (very kindly given that I'm sure this isn't the case for Tay) that insurance and pensions includes only necessary insurance and that his pensions consist of a matched contribution to a 401k. Equally, I will assume that there are no savings to be made on medical expenses as these are all necessary.
What about the other areas?
Transportation costs
The Tay  household is a two car family and they both drive an "average Sedan". The average cost is 60.8 cents per mile and this leads to their transportation costs of $8,800. Many savings could be made through methods such as car pooling, taking public transport, cycling or a number of other ways. However, to minimize the impact on Tay, I am only going to suggest that he downgrades both his cars. If they both drive a "small Sedan", the average cost per mile will fall to 46.4 cents per mile, and the Tay household will save $2,084 per year ($174 pm). Note that this also ignores the profit they will also make on selling their larger vehicles and downgrading to smaller second hand vehicles, and the potential impact this will have on their "auto loans".
Food costs & Entertainment
To understand what could be spent in each of these categories, I'm going to take an average of spending on US blogs around the blogosphere:
By matching these figures, we could be saving $92 pm on food and $146 pm on entertainment.
Clothing
When in debt, there is no way that Tay needs to spend more than $100 pm on clothing. Let's therefore assume a $58pm saving on clothing.
Tobacco & alcohol
Well, we all know we shouldn't smoke – so we will have $0 on tobacco. However, I'll let them have 2 bottle of wine and a 6 pack of beer each month, amounting to $30. Therefore, we also see a $53 saving in this category.
Budget assaulted!
Therefore, with very little impact on Tay's life, we have saved his household $523 to place towards the reduction of debt.
Tackling the debt
The first thing that Tay does is sign up to a 18 month 0% balance transfer credit card for his existing credit card debt. This costs 3% of the $8,200 ($246), but this shall be factored into the debt repayment schedule below.
After this, Tay will put his old minimal payments, combined with the $523 monthly saving to paying down his debt. Given that the credit card is now 0%, he can focus on highest interest auto loan, and then attack the credit card before the higher rates kick in, and finally remove his student loan: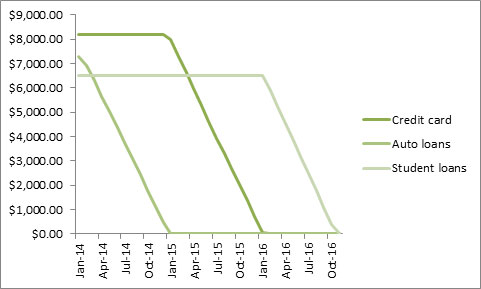 So, for 2 years and 10 months, Tay and his family have to make some small adjustments to their lives. They don't have to dumpster dive, they don't have to starve and they don't have to work every hour of every day to earn additional income. They just need to be sensible with their money and they will be debt free very soon.
Voilà – the problem of the "Average American" solved!!
——–
Graham blogs at MoneyStepper.com – a site that provides small steps, every day, which have a huge impact over the long-term. His regular posts cover topics concerning every aspect of money, investing and saving, which will help you increase your net wealth in the short, medium and long term.
Photo courtesy of hankinsphoto.com