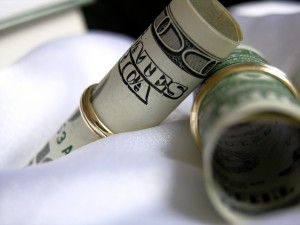 Going through divorce can be one of the most stressful financial ordeals a person can ever encounter. Over half of marriages that take place in America end in divorce and many of the parties involved end up paying off exorbitant debts because of legal bills and court costs. Here are the top four financial factors of a divorce and how to stay on top of them in order to avoid debt:
Children
Separate your children from the financial side of the equation. Their well-being during this ordeal should be you and your spouse's number one priority and all efforts should be made to spare them the financial details of the separation.
Try to keep them out of court as much as possible, but if your spouse is not being cooperative with payments and visitations, you may have to hire a child support attorney.
Property
Know your state's laws regarding  "equitable distribution," because it could factor a lot into how much effort you need to put in to dividing property. Nine states, AZ, CA, ID, LA, NE, NM, TX, WA, and WI, have laws in place that equally divide any and all properties purchased during the marriage.
Additional properties will come under the scrutiny of courts and may require mediation or arbitration, which are cheaper options than hiring an attorney. The division of property is financially the number one priority during a divorce, but each case will be different.
Assets
Assets include homes, cars, retirement plans, stocks, bonds, taxes, loans, antiques, even frequent flier miles. It's important that you get each one of these assets appraised so that you know the overall value of them. Then get official documentation of your spouse's income, including bonuses, stock portfolios and other benefits. It is this comparison of an asset's worth to income that will determine the allocation of the assets. Don't leave anything out.
Accounts
Joint bank accounts must be cancelled and new individual ones opened. The same goes for credit accounts. And once assets and properties have been legally settled you will need to alter the documentation of your house deeds, stocks, car titles and other legally binding financial matters. Additionally, you will need to change beneficiaries on all your investments and policies. Make updates to your will and contact your credit agency about your new status. This will protect you from being defrauded by a vengeful spouse.
These financial factors are the gritty reality of going through divorce proceedings. It is an expensive and emotionally draining experience, but with foresight and careful planning you can reduce your legal bills and posture yourself for a better share of assets.