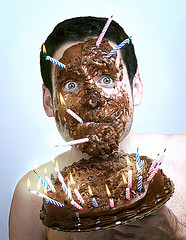 I was born on February 8th 1975, and today I am 35 years young. Being 34 wasn't bad at all, in fact as the years pass me by, they seem to get better and more fulfilling.
Some people have a problem with getting older, but not me. I welcome the added wisdom, knowledge, and experience of the previous year, and am ready to move on to bigger and better things. Age is nothing more than a number.
Live life, love life, and enjoy it while you can—become DEBT FREE!
In 1975:
Gerald R. Ford was President – President Ford escaped 2 assassination attempts.
U.S. Population was 215,973,199.
Federal Debt was $541.9 billion.
Unemployment was 8.5%.
Pittsburgh defeated Minnesota in Super Bowl.
Saturday Night Live premieres on NBC. George Carlin hosts the first show.
One Flew Over the Cuckoo's Nest sweeps the top Oscars, winning Best Picture, Director, Actor, and Actress.
Academy Award, Best Picture: The Godfather Part II, Francis Ford Coppola, producer; Gray Frederickson and Fred Roos, co-producers (Paramount)
Record of the Year: "I Honestly Love You," Olivia Newton-John
Album of the Year: Fulfillingness' First Finale, Stevie Wonder (Tamla/Motown)
This Time Last Year:
I HATED DEBT!
I had debt, and Sallie Mae wanted to move in until 2018. I said NO WAY!
We were 14 months into our Total Money Makeover. One of the only New Years Resolutions I have ever followed through completely on.
Barrack Obama became President.
U.S. Population was 307,212,123 (July estimate)
Federal Debt was 10.6 TRILLION.
Unemployment was under 8%. Currently over 10%.
I had under 41 subscribers.
Today:
I STILL HATE DEBT!
I have been married for 5.5 years.
I have 3 kids: Caitlin 13 Isaac 3 Noah 4 mos.
I HAVE NO DEBT except for the house.
Federal debt is currently 12.3 TRILLION. (Don't take notes from Washington.)
New Orleans Saints defeat The Indianapolis Colts.
Am more motivated than ever to teach debt freedom.
Am one week away from my last 2 days of work. (SAHD/WAHD) Nice!
Am looking forward to becoming a Certified Financial Counselor in April.
Considering approaching Washington to introduce them to Financial Peace University.
Starting my third FPU at my church.
Write for Self reliance Exchange, and something else that is still a secret. 😀
I have 500+ subscribers. (AND I LOVE YOU ALL!)
I AM MORE FREE THAN I WAS LAST YEAR!
That's it from me today! I will be spending the day with my family! Have a great Monday!