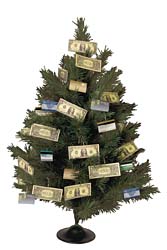 The Spin-Off
First I just want to thank everyone for participating in yesterdays discussion.  I enjoyed it so much and am pleased to see that all of you did too.  SO THANK YOU!  To be honest yesterdays post started as just another Christmas Gift idea article.  Then it transformed into what you enjoyed so much, so I left out the original idea to shorten the post.
People go absolutely insane come Christmas.  They let guilt, popular opinion, and the need to impress others take over their wallets.  They say things like, "I have to get them something, they might buy me something", and go and spend money they probably can't afford to spend all because of guilt or to make that impression.  People justify spending hundreds of dollars on their kids because they only live once, and they deserve a good Christmas.  What's your definition of a good Christmas?
I don't know about you but Christmas doesn't mean those things to me.  Maybe it used to, I'm just saying.  It doesn't anymore.  I think Christmas is bigger than what it has become.  Whether you are a Christian like me or not, Christmas is about family and friends and love and kindness.  I am much more impressed by something that someone spent hours trying to perfect, didn't curse them financially, and came from their heart in the process.  I'm impressed by those that put down all of the shiny jewelry and expensive electronics, and decide to help a single mother or surprise a unsuspecting orphan.  I'd rather spend my money at Christmas like that.  At Christmas, we don't go ALL OUT buying gifts, but we love to give, so we do.
Shawanda from youhavemorethanyouthink.org, and myself, see this issue close to the same.
People don't need more stuff! They need more time, more love, and more effort!  For the record I am not a scrooge as I may get accused of being, I enjoy gifts like anyone else.  I just enjoy one kind of gift more than the other, and don't see the point in diving head first into a hole to make someone believe I love them.  I do enjoy making the kids smile, but you can do that with a fourth or less of what you usually spend now, can't you?
With that in mind, perhaps you can consider some alternatives to the normal pride-fest that some falsely refer to as Christmas.  Like I said you don't have to be a Christian to understand that Christmas is about more than material possessions.  Even some Christians miss the point as well.  And while I am pointing fingers, let me point one right back at myself, because I have sometimes forgotten as well.  I am just saying, it is something we should think about more often before going and burying ourself in debt to make an impression.
If you still want to buy everyone in your family a Christmas present go right ahead, but what if you could help them REMOVE something from their life, instead of add something? There are a range of things that you can do depending on how wealthy you are to help someone you love have a great Christmas.
You could:
Invite them over for a nice Christmas dinner
Pay off one or more of their debts
Pay their electric bill for that month
Pay their mortgage payment (if you're wealthy why not?)
Pay their car payment
Give something that matters
Now I realize their are people out there that would probably get offended if you tried to pay their mortgage.  It is true, but there are lots of people who won't.  There are lots of people that are in need and that could use the helping hand.
You could try something new and see how crafty you can be with a potato stamp and fabric paint.  Think I am joking?  Not a chance, click on the link to see the list Money Funk has put together for having a frugally fun Christmas.  If you have kids you can come up with all kinds of inexpensive ways to show you care about your loved ones.  I know this- potatoes are cheap, but the memories they can create are priceless.  I have heard Dave Ramsey put it like this.  Give somebody something that they would want to grab if there house was on fire. If your house is on fire are you gonna grab the 60-inch Plasma, or the homemade picture that your 13 year old neice made you 5 years ago?