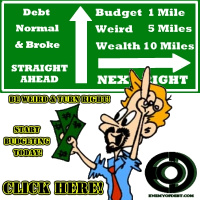 Here Is Your Financial Blueprint
courtesy of Enemy of Debt
created by Brad Chaffee
Well the time has finally come! You no longer have any excuse at all as to not having a budget.  I have created a worksheet for you to use to make budgeting fast and easy.  It is up to you to take advantage of it.  I have included a savings worksheet for you as well.  Remember a budget isn't a device to control you, it is a device used to control your money. 
Whether you use it to spend irrationally or to manage responsibly, the point is to spend it knowingly. Plan every dollar in advance so you are in control.  This budget is only version 1.  Later versions will have a few more worksheets included to help you further.  For example, I am working on a debt snowball worksheet, an allocated spending plan which helps you plan your dollars for each paycheck, as well as a worksheet to help you keep track of your financial position called a consumer equity worksheet.  I would even like to include an envelope tracking sheet to help you keep track of the envelopes you use monthly.  I was hoping to have it all ready for you now but because I ended up getting sick late last week, I fell behind schedule.  It was important to me, to get this posted as early as possible for you to use.  The sooner you get on a budget the better!! Stop wasting time!!
To download the budget click the NERD above and choose save, and then click the download button to save to your computer.  If you have any problems or questions regarding my budget please feel free to email me about them.  You can email me at brad.chaffee@enemyofdebt.com.
Happy Planning!!