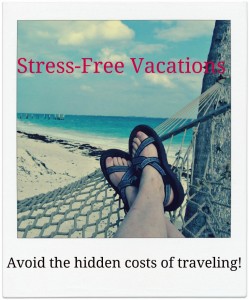 Recently I went on an amazing vacation. It was a 5 day cruise with stops in Half Moon Cay, Bahamas and Key West, Florida. (It also had my favorite band of all time on it!)
A large portion of it was a gift from a friend but I was still responsible for some expenses and I set a budget early to deal with them. However, I realized very quickly that there were a number of expenses that I did not account for when I was making plans.
Most of us budget for vacations and we plan for travel expenses, hotels, food, entertainment and souvenirs. But there are so many other things that need to be worked into the budget. If they aren't, these extra expenses can add up and end up on your credit cards.
If I'm forgetting these things then I'm sure others are too. Here's a list of vacationing expenses that you may not normally include when planning for a trip.
1. Parking Fees – We parked at the extended stay log at the airport which charged $6 per day. For a week long trip, your parking can add $40 or more to your budget. This needs to be a part of your budget if you are planning to travel by air and will be leaving your car at the airport.
2. Tipping – Oh my goodness does this get out of hand! I lost track at the number of times I was tipping during my vacation. There was a porter who met us at the parking lot and took us to the Departures area of the airport ($1-2 per bag is the typical tip). Then we were met by a porter at the hotel who happily helped us to the front desk and then to our rooms. Another porter helped us to the shuttle bus the next day when we were heading to our cruise ship. And then the cruise line had porters who helped with our bags. Each one of these porters were expecting a tip and while it is not essential that you do tip, it is customary to do so. I did with everyone of them except one. (The porter at the cruise line actually told us to tip him. I gave him a tip of my own and it was not monetary! ) I lost track at how much money was handed out after all the legs of my trip but I'd guess that it was in the neighborhood of $30. This commonly forgotten expense can really add up for you and your family, be sure to include it when planning your next vacation.
3. Cab Fare – This is an area that many people do not include into their travel expenses. We had to take a cab from the airport to the hotel and then from the hotel to anywhere we were going (for us it was down to South Beach and back, that was over $20 each way). We also took a shuttle from the hotel to the port when we were departing and again when we returned to the port and were headed back to the airport. Cab and shuttle fare costs were in the neighborhood of $150 I believe. This can be a tremendous budget buster if you are going to be relying on a cab or shuttles during your vacation. It is definitely something to consider when planning your vacation budget.
4. Traveling Necessities – The 3 oz. shampoo and conditioner, the travel sized shaving cream, the motion sickness pills and all of the other little items you buy before going on a vacation can really add up. One way to prepare for this expense is to sign up for all the free samples you can get from companies. I have a basket in my bathroom full of shampoo, conditioner, facial lotion, and more from companies who offered free samples. I didn't need to buy everything for my trip. You can find out about these free sample offers by following bloggers who discuss deals (Hip2Save is one of my favorite blogs for this!). I have plenty of items that I can take with me on vacations without having to break the bank. Although, I spent around $40 buying items that I thought I would need on my trip and I actually felt I had been prepared for this before hand, I blame the motion sickness that I was preparing for. It never came, thankfully!
5. Food & Drinks – While you are en route to your destination, you will probably need to eat something. If you are in an airport, the cost of doing so is astronomical. I purchased a wonderful bottle of water in the Miami International Airport for $4.99. This same bottle at home costs me $1.79. The food costs are also tremendous. Before you leave, pick some snacks that you can take with you during your travels. This may not work if you are going to be in many airports and traveling for an extended period of time but if you are flying domestically, do your best to eat before you get to the airport and then only snack on what you have while you are traveling. If this is going to be difficult to do, then be sure to include this in your budget. Eating at the airport added an extra $25 to my expenses and I'm just one person who only ate at the airport on the way home.
6. Pet Costs – Luckily for me, the only cost I had for this was to buy an extended release food tablet for my son's fish tank but many people who have dogs and cats will need to include this in their budget. When I did have a dog, it was typical for us to pay $100 or more for a week at the kennel. Pet sitters can cost $10-20 per day. Be sure to include this expense in your vacation planning so that it does not need to be placed on a credit card.
Vacationing is so necessary to our psyche. We need to relax and unwind from the daily struggles of life. When you are finally on your vacation, the last thing you need to worry about is how you are going to afford all the things you forgot about. Even more than that is coming home to extra bills because you had to charge a number of extra expenses.
Do your research ahead of time. Plan and budget precisely. When the time comes for that vacation, you can be sure to enjoy it to it's fullest!
Photo Credit: unknown. If this is your picture, please notify me. I closed out the window in Flickr and lost my source and after searching for nearly an hour, I can't find it again.