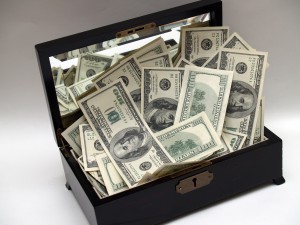 Anthem Healthcare sent me an advertisement for their health insurance and priced it on a daily basis. "Now just $1.58 per day!" Naturally, that rate didn't apply to me but to a hypothetical 35 year old "healthy" male. Surely their comprehensive database could have sent the quote for me as a 50 year old. In any case, you don't pay insurance daily. That $1.58 day rate is paid at $47.40 per month or almost $600 per year, which for health insurance is pretty inexpensive. I called and my daily rate would be $5.04 per day or $151 per month or $1,840 per year. Still sounds good but did I mention this is for a plan with a $10,000 deductible?
The Anthem offer happened to arrive as I was reviewing my bills and expenses for 2012 and looking at the costs of my lifestyle on an annual basis. Quoting a daily price makes an expense seem lower. If you're making $40,000 per year, $10 per day is chump change and far less than 1% of your earnings. Annualize this expense and it doesn't seem so cheap. $10 per day is $3,650 per year or 9.125% of earnings!
The bill that got me thinking was my cable bill. The TV portion was $87.77 monthly or $1,053.24 per year! You do not have to be a mathematician, or need a calculator, to see the impact that can have on your retirement savings. With so many options available for streaming, particularly Amazon's new offer to Prime Members of free TV shows and movies, and the availability of free digital broadcasts of local stations, we have decided to drop cable TV. You should know we only watch TV an average of 1-2 hours per day, so this isn't as drastic a lifestyle change as it may sound.
Many of the expenses we take for granted are bills our parents never had to pay. Cell phones, cable, and internet were not available 50 years ago. All of these expenses combine to make it very difficult for our generation to save and invest. They are one of the sources of debt, particularly if you experience any periods of unemployment.
Over the next month, I'll be sharing more expenses and how they impact our ability to save and invest for retirement. If you notice any in your own bills, please let me know.