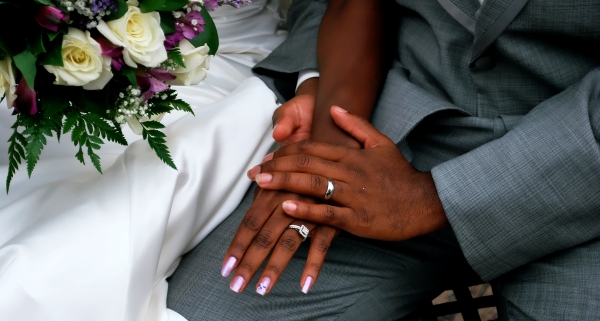 This is a guest post by Jacob Barry.
Are you planning a wedding in 2011?
The first biggest test of a successful marriage is planning the wedding. Why? Because the costs involved from hall to caterer to flowers can sometimes be ridiculous and spark unnecessary drama between the parties. Furthermore, new couples don't want to start off their lives together in debt, especially when the average wedding price tag is anywhere from $26,000 and up.
That said, hopefully the lucky couple has enough time to do advanced research and find the most affordable answers to all their needs.
However, if they approach the big day a bit out-of-the-box more frugal choices such as having the wedding at the family home become options. Don't get me wrong; I'm not trying to cheapen the wedding experience. These types of weddings can both be very meaningful and make a world of difference when considering some of the biggest wedding expenses:
The Hall: Halls can sometimes be half the price of the wedding, especially when the contract often requires using the in-house caterer. That's why agreeable substitutes for the standard wedding hall include a family member or friend's home with a large indoor space or even better, a yard with a view or near the woods. The ceremony can be inside or from a beautifully decorated balcony/porch as the guests look on from below streaming into the street. If you choose outdoors, renting an event tent is a good idea since you can never predict the weather and even if it's a clear day wedding guests will seek shade.
Tables and chairs: Only the bride and groom really deserve extra comfortable chairs, which most likely are available in the house. The rest can be rented but if you want to cut costs further approach a religious institution of your choice and ask to borrow them. The same could be said for table settings, i.e. glasses, plates and cutlery. If a Church hesitates you could offer a small donation or come to an agreement on replacing any damaged items.
Caterer: One thing that people generally don't remember from weddings is the amount of food. Sometimes they recall how good it tasted but the point is you don't have to have a lot, just enough. Do you want a sit down meal or just hors d'œuvres? Buffet or served? Steaks or are you going veggie? If you don't want to hire a caterer make a budget, appoint friends and family to cook and bake, and pick up the tab. You'll still be spending money but you'll save a lot more.
Flowers: You don't need a florist. Flowers could be bought in bulk and be personally arranged. Real flowers could be used for tables and fake ones for decorations. Depending where you live flowers could be cut locally or just like some people make their own wine for special family occasions, with enough planning you could grow your own flowers for the wedding!
Decorations/center pieces: Ask friends who are artists to contribute pieces for display or to make decorations with materials from local craft stores. Creative decorations and center pieces could also be made with any number of found objects. One idea for center pieces is little books on stands that each guest would write congratulatory personal notes to the groom and bride.
Photographer: A decent one could cost hundreds of dollars and a good one much, much more. Today everyone has digital cameras and can snap away hundreds of photos without a thought. Ask several friends you trust to be in charge of taking photographs, which you can review and later put in an album together.
Music: Some people prefer DJ's, some live music. Friends who play instruments or have the technological capability can be the entertainment. Unless they have their own equipment the biggest cost would be renting a PA system.
The guests: Even having a wedding at the house or in the woods has a price. Space issues might force a cut in the final list but it could also mean the opposite since there's no hall manager watching the entrance. You may not be interested in wedding crashers but in many cases the more loved ones and friends at the occasion the more memorable it will be.
Again, the point of all these suggestions is not to cheapen the wedding but to propose alternative ways to hold a wedding and start life on a clean slate not in debt. Even if one of these points is considered it could make a world of difference as 1000s of dollars are at stake.
Finally, I'm writing this not because it may be a great idea but because it is. I've been to weddings that were truly special because everyone took part in the event and had a hand in marrying off the groom and bride.
Jakob Barry writes for Networx.com. He covers various home improvement topics, including green lighting ideas, landscaping maintenance, and home safety awareness.