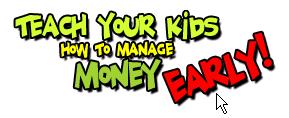 That's How!
Our Children Really Are The Future
If you have children I can not think of anything as important as teaching them how to manage money at a very early age.  Think about it for a second.  If you would have learned about money at a young age you could have avoided so many of the financial pitfalls that most of us deal with.  I know I would have loved to learn this stuff early on.  It would have kept me from paying extensive amounts of "Stupid Tax", as Dave Ramsey calls it.  Stupid Tax is money that we pay because we do something stupid with our money.  For example, when you buy a car right off the showroom floor, the stupid tax is the money that you lose because of the car depreciating quickly.  One way to avoid Stupid Tax in this situation is to NOT buy a brand new car.  Instead by a used car and let the person before you pay the Stupid Tax.
With all of the myths that are spread in our ever growing "spend more than you make" society, it is important to debunk these myths before they become engraved in your child's mind.  As always, Dave Ramsey has developed a very good system to help you do just this.  This system is called Financial Peace Jr., and is intended for children ages 3-12.
We Should Set Them Up For Success, Not Failure.
By simply investing a little bit of time preparing our kids for financial responsibility we can save them years of struggle.  We all know that living paycheck to paycheck is NO FUN!  For just $20 we can change the way our family tree branches out, and ensure that even our children's children have the tools needed to win and prosper.  By now we know that the schools do not even come close to teaching our children about how to manage money, so do not leave it up to them.  The effort will be well worth it in the end.  We have already purchased Financial Peace Jr. for our son and he is only 2 years old.  We have even started to incorporate giving him money to put in his piggy bank when he cleans up his toys.  He has even used a little bit of his savings to buy his Grandma a birthday present.  He bought her a $3 picture cube, with HIS money.  Does he fully understand how all of this works?  Of course not, but he will.  You should consider buying Financial Peace Jr. today and spreading the love early on.
Financial Peace Jr. includes:

Commission Worksheet (Dry-Erase Board) – Keep a record of all of the jobs your child has done and how much money he or she earned each week.

Saving to Buy with Cash (Dry-Erase Board) –Your child can choose one item to buy with cash, and when he or she has saved enough to reach the goal they can purchase the item.
Envelope System (Save, Spend, Give) – Placed the money earned each week in the envelopes so your child knows exactly where his or her money is.
Clip and Carry Coin Case – Helps your child keep track of his or her spending money and helps you to monitor your child's spending.
Instruction Manual – A guide for effectively using the kit to teach your children.

Instructional Audio Cassette – Provides additional instructions for you and your child.
If you know who Dave Ramsey is, then you know that he is pretty comprehensive in his approach.  For adults he has developed a 13 week video based series to tackle everything from saving, budgeting, and buying to insurance, career choices, and giving.  Additionally, he has also created a website for kids that has interactive books, fun games and puzzles for kids to use.  Junior's Clubhouse is an awesome way for you to let your kids learn and have fun at the same time.  Learning about how to manage money doesn't have to be boring, and Dave Ramsey proves it.
Some facts from daveramsey.com:
"According to Opinion Research Corp. 95 percent of pre-teens and 91 percent of teens get money from their parents or relatives to spend as they please but only 20 percent of these teens say they save the money as they receive it. With more than 47 percent of children having a television in their room (The Annenberg Public Policy Center), children are being targeted by advertising more than in the past."
"The sooner kids start learning how to save and manage their money the better off they will be in life.  Financial Peace Jr. does a great job of teaching kids the basic principles of saving money.  It is so important that children learn the basics especially in today's world where emphasis is on spending not saving," said Matt Woodburn, vice-president of Dave Ramsey's company.  "This kit also allows parents to spend quality time with their children while teaching them about money."
Love your children by preparing them with great financial management skills.  Good luck!
**If anyone has actually used Financial Peace Jr. with their children and would like to share their experience, please do.  Got tips and advice?  Share your knowledge in the comments section.**