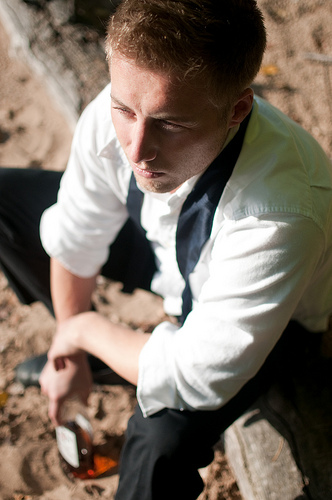 In the last few years our economy has taken quite a hit.  This has resulted in pay cuts and layoffs around the country.  Perhaps you have been affected by this and are now struggling to live off of lower pay.  If readjusting to a less luxurious lifestyle is proving to be a challenge, there are a few simple things you can do to ease the strain.
Try to offset your primary expenses by cutting back elsewhere.  This means that if you are still committed to a lease or are paying off loans and are unable to reduce the monthly costs of these, you can seek to save money elsewhere.
For example:  try driving less by biking, walking, or using public transportation to get to and from work; don't buy coffee every morning but make your own at home instead; take up running and other forms of exercise that don't require gym facilities and get rid of your gym membership; make more things from scratch to save on food costs; go out to bars and restaurants less.
While all of this may sound boring and may not be the ideal scenario, it will save you money and keep you living within your means despite a pay cut.
Downsize where you can to save money.  This means dropping services that are not essential- things like cable, a house keeper, expensive haircuts, new shoes, luxurious vacations, expensive bottles of wine, etc.  You can still watch good TV, but perhaps you should use Hulu for the shows not offered on basic cable and see them for free.  Expensive haircuts aren't always necessary, but if they are see if you can minimize the products you use or perhaps get your hair cut less often.  Buying clothes and shoes is indulgent if they are not needed.  Try to cut back or start shopping at second-hand stores; there are some great places to find cheap and fabulous clothes without busting the bank.  Have a yard sale to get rid of all that extra junk you have been meaning to sell.  This way you can make a little extra cash to help you get by.
Every little bit will help in enabling you to live within your means.  If making these small changes isn't enough, you may have to face the facts and move to a smaller home, sell your car, and pull your kids out of private school.  Yes, this is not ideal, but if it means being able to support yourself and your family versus not being able to, the decision seems fairly obvious.  Keep in mind that through every hardship there is a valuable lesson to be learned.  Life is too short to dwell on the things you cannot change.
Dealing with the emotional fallout from a drastic change in lifestyle can be hard to manage.  You may find that you feel defeated, ashamed, or angry with the circumstance.  Do your best to keep a positive attitude by finding at least five things everyday that you are thankful for.  Avoid people that are not understanding of your circumstances and put you in a position to feel ashamed, they are not worth your time anyway.  If you have lived in a way that placed significant value on what you have versus who you are, then consider this the perfect opportunity to tip the scale; learn to appreciate who you are separate from what you own.  Always remember that this too, shall pass.
About the author: Jenni Sunde is a freelance fashion writer and pop culture junkie. Jenni specializes in all things lifestyle-related. From home and design to health and beauty. With her love of art and all things beautiful, she delights in sharing her sense of style from her life to your computer monitor. Her title pegs her as an editor at a website that specializes in providing people with quick car insurance quotes, but her passion leads her into writing with a little more substance and a lot more heart.