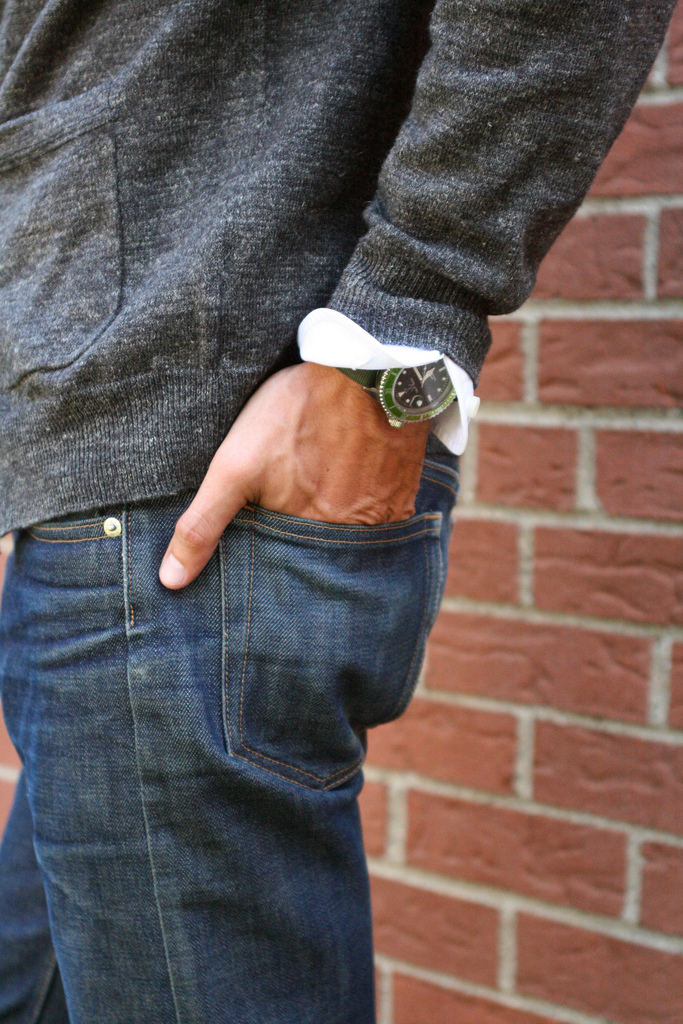 This is a guest post by David Bakke
Photo Credit: beckyjohns7
Up until recently, I always had the luxury of having the majority of my clothes purchased for me, either by my mom when I was younger, my wife when I was "grown up," and by family and friends during the gift-giving holidays. I know, it sounds like I'm really spoiled or something, but in actuality, all of these close people in my life have always enjoyed shopping for clothes for me. Yup, I'm a pretty fortunate guy!
However, my wife got a full-time job two years ago that made her life much busier, which in turn put me in the brand new position of having to do the shopping all by myself. This was a world I knew nothing about – and when I say "nothing", I mean nothing at all.
Thankfully, I learned a ton along and the way and it didn't take me long to compile a pretty good-sized list of tips and strategies for dressing nicely while still on a budget. Some are ones you may have already thought of, but I think there are a few newcomers here as well. I hope you find my words both helpful and informative. I'd love to hear any additional tips you have in the comments below.
1. Quality, Not Quantity
Man, was I missing the boat on this one in the beginning. Finding four pairs of dress slacks for $25 may sound like a great deal on paper, but not when the pants literally start  falling apart after wearing them only two or three times. Do yourself a favor. Move the scales up a bit on the quality end, and down on the quantity end. You'll be glad you did. Also, cheaper clothes tend to shrink more, meaning in some cases, you may only get one use out of something before it shrinks in the wash/dryer. And just because you're going for some of the higher-end clothing does not mean you can't buy quality clothes on a budget.
2. See What You Have
Before you go shopping, run through your closet really quickly. Not that I have a huge wardrobe, but every now and then I forget exactly what I have. This should prevent any repeat buying of certain items or styles. Also, knowing what you have will help you determine the difference between wants and needs when it comes to your clothing!
3. Wait and Watch
One thing I have noticed is that for the most part, there is always a clothes sale somewhere. It's just matter of finding it. And, if you're particular to a certain retailer, then wait. Before long, they'll have a sale or distribute coupons – trust me.
4. Consignment/Thrift Stores
I've been able to find a wealth of clothes at thrift stores, especially work clothes. And I'm talking about brand new stuff still in its packaging. I've found dress socks for a dollar and even button-down shirts for $3. If it's brand new and good quality, who cares where it came from? And for the women, I've also noticed that you can find a ton of "unique" stuff at these places including some designer clothes, if you're seeking that one-of-a-kind look.
5. Solids, Solids, Solids
If you're a guy like me and are officially bankrupt in the fashion-sense department, I would advise sticking with solids as much as you can since that will make it a lot easier to match… and more difficult to look like an idiot. Also, as another point, solids tend to be a little less memorable, so it actually makes it look like you have more clothes than you really do. This means you can re-wear the same clothes more often.
6. Clearance Racks
Wherever you do your clothes shopping, always check out the clearance racks. Sometimes it's hard to find clothes your size, but the deals are tremendous. I also have some friends and family who highly suggest the clearance racks when it comes to saving money on plus-sized clothes. Even the high-end retailers have clearance racks.
7. The Budget Retailers
As far as specific stores, lately I've been going to Target, Marshalls, and Old Navy (when there's a sale). These places, and their competitors, seem to always have good quality clothing at reasonable prices.
8. Shop Online
It never occurred to me until I tried it, but shopping online for your clothes is definitely a good option. This should really appeal to my fellow males. No lines, no crowds, none of that. If you know your size, it's also really convenient. Plus, you can get free shipping quite often from a lot of places (including return shipping if the clothes don't fit or you don't like them). Also, try eBay! Yup, they have clothes there too and find great bargains.
My learning curve for clothes shopping on a budget has been fast and furious. This is an area where it's easy to spend unnecessarily if you're not careful. Hopefully, these strategies make it easier for you to save money, rather than wasting it. And if you're a guy who needs more assistance, check out some of these tips for men on clothes shopping and saving money.
Do you have any additional money-saving tips to add to the mix?
David Bakke writes about financial topics on the Money Crashers personal finance blog. Learn more about saving money, smart shopping, budgeting, investing, and building wealth.