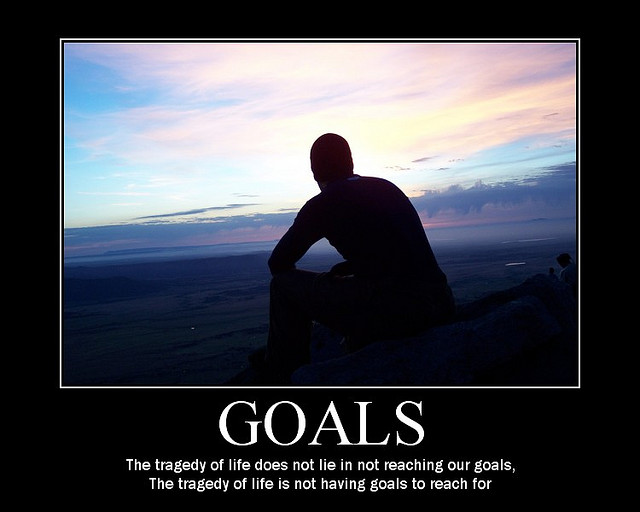 This is a guest post courtesy of my friends over at Ready For Zero.
Nearly half of all Americans set new goals for themselves at the beginning of every single year, yet only about 15% actually follow through and accomplish them. Those numbers aren't exactly encouraging when trying to figure out the challenges you'd like to tackle in 2012. The odds may be stacked against you, but what the statistics don't show is that this year, you won't just be setting any old goals. By following the tips that I've outlined in this article, you'll be setting the types of goals that help you beat the odds and gear you up for success.
Tip: Don't bite off more than you can chew.
New Year's is often a time that people get super eager about what they want to accomplish and set a lot of different goals for themselves but it turns out that most humans are not that great at multi-tasking! Now, I'm not trying to put a Kibosh on your ambitions, but you're more likely to succeed if you prioritize one or two good challenges to work on vs. 10 different goals to divide your attention amongst. If you've had success in the past with setting multiple goals and knocking them out of the park, then by all means, don't let me stop you. But, if you're like many of us who do struggle to keep with our New Year's resolution, focusing on a smaller set of goals will increase your likelihood of success on your endeavors.
Tip: Have SMART goals.
SMART is an acronym for Specific, Measurable, Attainable, Realistic and Timely goals.
Last year, I vowed to 'eat out less' and 'take more pictures' as my goals for the year. I did ok for the first couple of months or so, but without being Specific about what I wanted to accomplish and understanding how to Measure success vs. failure, it was easy to lose track and let my goals fall by the wayside. This year, I'm going to attempt the same goals, but with a different approach. I've calculated how much I've spent on eating out on a monthly basis in 2011 and it averages out to about $500. As a New Year's resolution, I'm aiming for a 30% reduction in this amount over the next 3 months to $350. Likewise, it turns out that I've taken about 15 pictures per month in 2011, and I'd like to ramp up the amount of monthly pictures I take from 15 to 45-50 over the next 3 months.
Each of these personal goals are Attainable and Realistic because I've looked at my past patterns first and have chosen them accordingly so that they are a challenge, but at the same time, they aren't out of the realm of the things I think I can accomplish. I've also made these goals Timely by setting a timeline over which I plan to ramp up to speed on my goals.
If one of your New Year's resolutions is to get out of debt faster, I've got some great news for you. We, at ReadyForZero would like to help you set Specific and Measurable goals around your debt. ReadyForZero is a free no-gimmicks online program that helps you make a plan for getting out of debt faster on your own. For the new year, we are introducing a special challenge within our product asking you to stop using your credit cards and pay 10% more the current total you are putting down towards getting out of debt for the next 3 months. We're also going to equip you with a 9 week email action plan filled with insights and best practices in addition to our free online program to help you be successful.
Since this goal takes into account your current level of debt payment plan, we hope that it is also Realistic and Attainable for a good majority of you. The 3 month commitment is Timely and long enough to be habit forming, yet short enough to be within reach. And you can use our online product as a tool to help you make a plan for and track your debt paydown. At the end of the 3 months, you can look back and see how you fared!
Tip: Write 'em down
A study about goal accomplishment conducted at the Dominican University concluded that the participants who wrote down their goals on average completed more goals than those who didn't. Tying this in with the previous tip, when you write goals down, it forces you to be more specific and helps you feel a stronger sense of commitment towards them.  As a bonus, if you take these goals, print them out and hang them over your desk, put them in your wallet or anywhere else that'll allow you to see them frequently as a reminder, you'll be more likely to stay on top of them.
Tip: Evaluate and Celebrate periodically!  
To stay motivated, it is important to keep track of your progress and celebrate your accomplishments. Keep your eye on the prize and think about the positive reasons behind why you want to accomplish the goals. For example, if you're looking to get out of debt faster, don't focus on how many sacrifices you'll have to make to get there. Instead, think about all the great things being debt-free will allow you to do such as use the money you were putting towards your payments to go on a vacation or save for your retirement. Then, when you actually reach your goal, celebrate a little! Even if you fall a bit short, don't let the setbacks you may encounter get to you. You're human! Instead, stay positive, think about how far you've come along, the difference it's made in your life so far,  the lessons you've learned and what you could do to improve going forward.
I hope you find these tips useful in setting  and accomplishing some good goals for yourself in the New Year. Got any other great tidbits that I missed? Feel free to share your own New Year's resolutions and how you plan to succeed in the comments below!