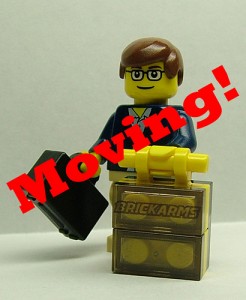 I just finished moving for the fifth time in five years. Not only is moving not fun, it's expensive!
I have moved for various reasons over this time frame, divorce, a brief second marriage and a crazy landlord. People move for many other reasons, a change in jobs, to be closer to family, the list goes on and on.
According to the U.S. Census Bureau, 17 percent of the U.S. population moves each year. The reality is moving is just part of life's adventures and whether you do it once in your life or twenty times there are ways you can save on your move.
Since this was my fifth recent move I have some experience under my belt and put it to good use this time around.
Here are just a few ways you can prepare for those "miscellaneous" expenses that crop up and maybe even make some money.
Downsize your life
We all accumulate "stuff" over the years and parting with some of it will definitely make your move easier. This time around I took a collective look at my "stuff" and realized that there was too much of it, a lot of it was not being used, and hey I could make some money by selling some of it.
Craigslist. My boyfriend has dubbed me the "Craigslist Killer" not because I am dangerous or a stalker but because I "killed it" with my Craigslist sales. Prior to the move I gathered all of the items I thought might sell, set up a staging area in my basement, photographed everything and listed the items for sale. Total haul: $2675.00!!
Donate. There was some stuff that didn't sell (mostly clothing) that I no longer need or wanted. I gathered it all up and dropped it off at my local Salvation Army. Not only does it feel good knowing that I didn't just throw it away, I was given a receipt to write the donation off on my taxes.
Trash. Some of the "stuff" did not sell and well I didn't feel it was donate-able either. I had five large lawn and leaf bags full of trash (can you say hoarder?) sitting on my curb after the move.
Packing Uggh…
This go around I was lucky enough to have a friend that owns a box company and boyfriend that owns a box truck for his business! Most people will not be this lucky but there are a few ways you can score free or inexpensive moving supplies.
Your first stop should be your local grocery or liquor stores, which usually have piles of boxes out back.
You can also put the word out on any social networking sites you belong to. A simple status update on Facebook ("Moving and need boxes! I can pick them up").
Craigslist.org is another fantastic resource for moving materials. You can find bubble wrap and boxes for free or very cheap.
Another way to lower costs on packing materials is to multitask with what you already have. Instead of devoting an entire box to towels, linens, blankets, etc., use them to wrap your fragile items instead.
Feeding the Help
This move was courtesy of family and friends and their willingness to help me move, again. My father swore the last time I moved he was never helping me again, but somehow he was there with bells on when the moving truck was ready to be loaded (thanks dad )
The least I could do for my "free" help was feed them. In preparation for the big day I made a crock-pot full of chili, purchased burgers and dogs and yes a few cases of beer (the workers get thirsty).
During the move I was several days without a working kitchen. In preparation I purchased microwaveable items (Chef Boyardee and Kraft EasyMac) and saved up fast food coupons for unhealthy yet quick meals.
Change your address ASAP
I learned this lesson the hard way on my last move when I was socked with late charges because I didn't receive a bill. To avoid my mistake be sure to submit a change-of-address form to the post office and any company that sends you bills; credit cards, doctor's offices, utilities, subscription services, etc. Most companies let you easily edit your address on their websites.
This is GOING to be the last time I move (at least until my son graduates high school in eight years). I hate moving but consider myself a pro at this point, so if you have any questions or want more tips feel free to ask!
What is your favorite moving tip or trick?