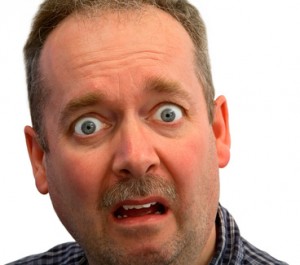 Not long ago, I was reflecting back about the first time my wife Angie and I were scheduled to make announcements and greet visitors from the platform at our Sunday church service.
I'm an introvert, so I was pretty nervous.  I wanted to make sure and do it right, make people feel welcome, and keep from screwing it up.
So with Angie by my side we made it through the greeting and announcements just fine.  At that point I realized that no one had told me who to hand the mic off to next.
I froze like a gallon of Rocky Road ice cream… at the North Pole.
Someone pointed to the pastors.
But at that point I was so distracted and freaked out, that the phrase "Please welcome our pastors Joseph and Yolanda Morgan to the platform" turned into "Uh… here's our pastors next…Uh… Pastor, uh… MORGAN!!!
I was so nervous and distracted that I completely forgot their first names!
Not a good showing when you realize that at that point we had been members for about 5 years.
I've found after reading a ton of books on personal finance and counseling people about their finances, that a lot of people have the same kind of reaction when they get themselves into a financial situation that causes them to panic.
When you wind up in panic mode it's easy to not think logically.  Common sense takes a leave of absence, and you end up making decisions you never thought you'd make.  Like buying a pair expensive high heels to make yourself feel better because your financial situation has you down in the dumps.
Huh?
Makes perfect sense, right?
So many people are living from paycheck to paycheck that even a little financial disruption can have you seriously considering running up the credit cards, taking out car title loans, payday loans, pawning your possessions (think Pawn Stars tv show), or signing up for a home equity loan to pay off your debt (all bad ideas by the way).
Nobody completely avoids the occasional financial bump in the road.  So how do you prevent panic, and the bad decisions that can come with it, from taking over and making your situation even worse?
You take steps to put yourself in a good position before those bumps happen.   When you do that, you never get into panic mode.  The result is that you then allow yourself to make solid, rational decisions.
Unlike me with a mic in my hand.
How Do You Prevent Financial Panic?
You prevent financial panic by making a plan for your finances.
That means:
Putting together and implementing a get out of debt plan,
Building an emergency fund to prevent panic from setting in,
Spending wisely.
Yes, you can do these things, even if you're living paycheck to paycheck.
It will take some work and it doesn't come overnight.  But it does work if you just take solid, consistent action.
It Gets Better
We've made announcements and greeted visitors many times since that first big screwup.
I'm much more at ease and prepared than I was that first time, and it tends to go much more smoothly now.  Just like your financial situation will get better with a little action and practice.
Have you ever made a stupid decision because you panicked?  How did it work out for you in the end?
I can't wait to read your comments.