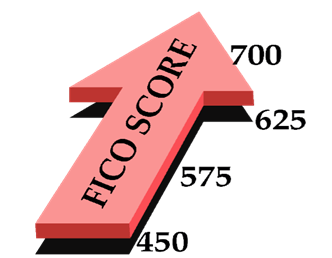 "Everyone" says you should get a credit card so you can establish credit.
Well, the truth is "Everyone" is Broke!! You want to establish credit so you can one day buy a house, right? That's what most people believe they are doing or at least that is the reason they give for getting a credit card. I believe that it is the beginning of a cycle that ends up becoming a nightmare!
Why would you need to have good credit?
You would need to have good credit if you are planning to borrow money. If you do not plan on borrowing money then your credit score is pretty much useless. Can you buy a house if you have never borrowed money to establish credit? Absolutely! All you need to do is be on time or early with your rent for more than two years, maintain the same job for more than two years, have the ability to pay the mortgage you are trying to get approved for, and have a substantial down payment. Manual underwriting is when the loan company actually looks at your situation as opposed to checking your FICO score.
Can you survive without a FICO score?
If you went your entire life and NEVER borrowed any money, then your credit score would probably be a big fat zero! SO WHAT! All that means is that you have gone your whole life using cash and ONLY buying things that you could afford. It also means that you have spent WAY LESS for your stuff because you avoided interest payments! The problem with this in today's world is that people want things now without having to wait or plan their purchase. They "need" it so they go borrow to get it. If you are a human being living in the United States you have probably used credit to purchase some pretty absurd things. I wonder how many pets have been repossessed due to non-payment?
To Borrow Never Again!!
My wife and I have vowed to NEVER, EVER, EVER borrow money EVER again EVER! We now understand that while it isn't "normal", it is more than possible. We currently have a mortgage and when it is paid off that is it!! My co-workers and even some family members swear that this is not plausible. The only thing they have to make their case is NOTHING! Their case is made for them by the simple fact that they just can't comprehend owning anything big without having to borrow to get it. Then they say things like, "It's going to take you forever to pay your house off!" If I lived like them and continued to borrow, and most of my paychecks went to paying off my monthly debt payments then they would be right! It WOULD take FOREVER!
No payments?
If you have no payments of ANY kind, your income becomes a very powerful tool! You can then afford to pay your house off in less than 10 years. You can then afford to pay cash for that car. You can then afford to do just about anything without it following you around for the rest of your life. Stop acquiring debt NOW, before you end up finding out why!! Forget about your credit score, because it only encourages you to BORROW MONEY you don't have! Use cash and make sure you have a financial plan! Anything you can borrow to get, you can use cash to get without becoming a slave, and without making everyone but yourself wealthy!
In (Family is Important use Cash Only!) WE Trust!

We believe in our own F.I.C.O. score to manage our financial matters. We believe that because FAMILY is so IMPORTANT we shouldn't use debt to set future generations up for failure, so we use CASH ONLY! Debt destroys families, DON'T let it destroy YOURS!
What is the most obnoxious item or thing, you have ever financed?