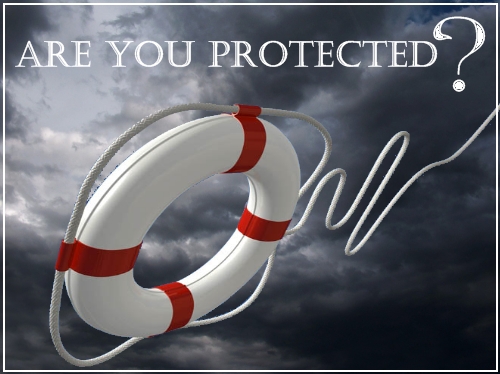 Do You Hate Insurance?
For most of my life I have HATED insurance.  It always seemed to me that I was getting ripped off, especially if I never had an event to justify having it.  You probably know what I am talking about.  You drive your car for 5+ years without an accident, causing you to think more about all the money you have paid in, that seems to have just been flushed down the toilet.  As much as I hate thinking about that I have learned that insurance is about transferring risk, and the cost that comes with that is money well spent.  We never know when something is going to happen to us that could cause us to go bankrupt if we don't have the proper insurance.  You should think of insurance as protection, not money poorly spent.  Not needing to use your insurance is a good thing, but not having it when you do need it, can cause a bad situation to get worse REAL fast!!  On the other hand, you might have the wrong kinds of insurance, and you REALLY ARE getting ripped off.  In which case, you need to find out now, rather than later when it will be too late.
DISCLAIMER:
I must say upfront that I am NOT an expert in the area of insurance, but from what I have learned there is insurance that you need, and don't need, in order to protect yourself from expensive life changing events.  This information should be used as a starting point to learn about your insurance needs, not to take the place of your own research and investigation on the matter.  You should never act on anything until you understand what it is that you are getting yourself into.
"

Term

" Life Insurance – 15 or 20 year term is recommended, mainly because after that you will have become self-insured if you have no debt and at least 3/6 months of savings.  Avoid extra options, and don't forget your spouse.  You should have about 10 times your income.  Term insurance is cheaper, and has no built-in savings plan. (Insurance is not an investment, it is protection.)
Identity Theft Protection – Look for theft protection that includes restoration services such as an assigned counselor to handle the headache that follows identity theft.
Health Insurance – Highly recommended!  If you do not have health insurance there are multiple avenues to follow in order to get it.  I would recommend that you make it a priority over other things that people seem to put first.  (like having a brand new car, bigger house than you need, multiple toys, vacations etc.)
Disability Insurance – This replaces income due to short term or permanent disability.  You want to get insurance that pays if you cannot perform the duties you were trained to do.  Buy short-term policies that cover less than 5 years.  Pay attention to the elimination period which determines when payments begin after the disabling event.
Auto Insurance – Your only options are pay the uninsured vehicle fee (

NOT recommended

), get liability or collision.  If you have adequate savings, it is wise to raise your deductible to lower your premium.  You can consider dropping collision on older cars.  (Because my car is an 85, and worth around $500, I carry liability only.)
Long-Term Care Insurance – Long-term care insurance is needed for nursing home, in-home care, and assisted living facilities and is highly recommended.  Dave Ramsey says not to buy it until you reach the age of 65.  "69% of people OVER the age of 65 WILL require long-term care at some point in their lives." Before 65 it is a waste of money.
Home Owner's/Renter's Insurance – You should make sure you have "guaranteed replacement cost", instead of extended replacement coverage.  If you have the latter it is up to YOU to make sure your coverage is updated every year.
Credit Card Protection – SCAM!
Cancer and Hospital Indemnity – Sounds good at first until you realize how fast hospitals discharge patients as well as the total cost of one day.  The coverage pays up to $150 per day, and some days cost more than $1,000.  (Check link above:  Insurance to heed)
Accidental Death – Whether you die by accident or not, the truth is you are still dead.  You just need term life insurance either way.  What a scam!
Pre-paid Burial – You should not pre-pay for any of these benefits.  Do not confuse this with pre-planning.  It is good to plan but do not pay until the service is needed.  You can gain more by investing in Mutual Funds over the years and besides, the only thing you save by pre-paying is the cost of inflation.
Mortgage Life Insurance – More affordable to buy or add to your TERM life policy.  This insurance is hugely profitable meaning you are taken advantage of in the process.
Credit Life and Disability – Better to maximize your disability insurance.
Cash Value (WHOLE LIFE), Investment, Or Refund Policies – Insurance should never be used for any of these purposes.  Returns are historically low.  When you die, the insurance company keeps the cash value, and the fees deducted are really high.  (You should know that if you have a cash value policy, you should get a term life policy in place before canceling your cash value policy.  If for some reason you have become uninsured, you don't want to be left with nothing.)
Duplicate Coverage – Why would you pay twice for something?
Extended Product Warranties – Huge rip-offs!  Cars, phones, computers, and many other purchases have these add-ons to "cover" you if the product you are buying is a piece of crap.  Have you ever tried to follow though with one?  There are all these little details that determine what is covered, what is not, and blah, blah, blah!  Don't waste your money!  I have not bought extended warranties in many years and have never been burned because of it.  I know many people that swear by these rip-offs, but nothing is as affordable as putting some money into a savings account and replacing your purchase later on.  If you buy a piece of crap, why would you want to replace it with another piece of crap, while in most cases still having to pay a fee to do so?
Has this post been helpful to you?  Do you have an insurance story to tell?  Did I leave anything out, or get something wrong?  Leave a comment below…