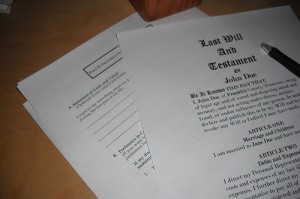 According to study by the AARP roughly 2/3 of baby boomers are expecting some sort of an inheritance and are spending it before they even have it. They dig deep holes of debt with inheritance money in the back of their mind; failing to understand using inheritance money to pay off debt is not a sound financial plan. In fact inheritances often don't turn out the way those expecting them think they should.
A Family Torn
I have a friend who recently had a grandmother pass away. Her frugal lifestyle and previously deceased husband's good business sense left her with a sizeable inheritance to will to whom she saw fit. The problem is the grandmother did not include all of the grandchildren or even her own children in the will. Instead she decided to share the wealth with only 2 of the 5 grandchildren and neither of her own children. The reasons for her decision were her own, but it has left this entire family in complete turmoil.
To date, the grandchildren with the exception of the two that received the inheritance don't speak and the parents who were stuck with the funeral costs and no inheritance have a tattered relationship with kids.
The entire situation deeply saddens me as I am a firm believer that nothing, especially money should come between families; family is first.
In the good hearted nature of one of the inheritance recipients she chose to give a portion of her inheritance to one of her brothers who was left nothing. The brother was extremely grateful but felt the other brother, who also received the inheritance should do the same so that all would be equal and fair amongst the three siblings. The brother has chosen not to share his inheritance as he feels it was left to him by their grandmother.
Equal is not Always Fair
Consider this, equal does not always mean fair. Most people want to deal with their family equally when it comes time to share their inheritance. This is their life and legacy they have worked hard for and they want their family to be able to enjoy it. In some cases though, they may have reason to leave their entire inheritance to one family member.
Will you be Left Out?
My father was the sole recipient of his mother's entire estate even though he had an older brother. Originally the will stated the estate was to be split between the two brothers, but in the end was determined by each brother's actions. The reasons for her last minute decision were all good ones as her eldest son never bothered with her and didn't even visit when she became very ill. My father however moved her right beside his house so he could care for her as her health declined.
He handled all of her banking, took her to the grocery store each week and shuttled her to all of her doctor's appointments. In her mind he deserved to receive the inheritance in its entirety. While her decision was her own, her oldest son still holds a grudge against my father even though he shared the inheritance with him; another family torn apart by an inheritance.
In both cases the will stated how the inheritance was to be distributed and still there was dissension in the family. Imagine what not having a will could do to a family…
For those involved in these inheritance situations, there are a number of ways to look at how each person reacted.
Was it greed on the brother's part that made him choose to keep the inheritance to himself?
Or is it greed on my friend's part to think that they deserve a piece of the inheritance?
Maybe it is just a matter of both being stubborn and not wanting to give in.
Should my father's older brother been given an equal portion of the inheritance?
Only time will tell what will happen to these families left in turmoil over an inheritance.
As you can see from both stories the inheritance did not pan out the way the parties involved thought it should. Many of us feel we are "owed" an inheritance and expect it to be part of our financial future. Lesson learned don't count your chickens before they are hatched or don't spend your inheritance before it is bestowed upon you.
Have you been on the receiving end of an inheritance? If so how did it affect your family dynamic? Who do you think is right; the brother that refused to give up his piece of the pie or the one who thinks he is entitled to a piece and didn't get one? Would love to hear your thoughts and any stories you might have!