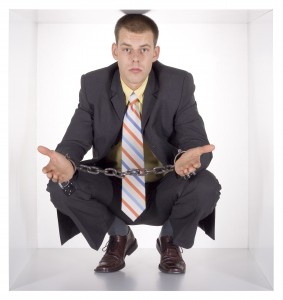 Hello! My name is Bobbie Bushman and I am the newest contributor to Enemy of Debt. I found Enemy of Debt a couple of weeks ago and I loved it right away because I felt they were doing something that not many other websites are doing. They are telling you the truth about debt, how it can trap you, and how becoming debt free can change your life for the better.
Since I knew I was going to be writing for this site, I starting thinking about what I wanted to say. One thing I say a lot in my personal blog is that debt is slavery. But is that really true?
Some people might say that slavery is a serious word and does not apply to debt because there is still an element of free will, even when you are in debt. That might be true. Let's look at your options if you are in debt.
Ignore it.   I've definitely seen people do this. It just creates more debt through fees and penalties.
Live with it.  Sure, you can accept debt as a normal part of life, pay the minimum payments on those credit cards, and buy a new and bigger house every five years. This is what most people do. However, this too, usually results in accumulating more debt.
Work hard to pay it off. This option is the hardest, but it is also the most rewarding.
Which are you doing? If you agree that debt is slavery then there is only one of these choices that results in freedom. But all three choices may have you in a situation you don't like.
Do you ever hear people say that they hate their job but they have to work it to pay the bills? If debt is keeping you doing something you don't want to do, is that enslavement? Isn't slavery feeling that you don't have a choice?
It is only now, when I look back on my life when I was in debt, that I feel I was a slave to debt. When I was in the debt, I thought I was normal. I didn't yet know the freedom of being debt free. I got so used to carrying the weight of debt around, I didn't even notice it was there.
Dave Ramsey tells us, "Debt is normal. Be weird." Just because other people accept debt and the limited choices that come with it, doesn't mean that you have to. My family and I chose to take that less traveled road and sell our mortgaged home, pay off $30,000 in consumer debt, and move to a less expensive area. It was a difficult journey, but it was so worth it!
For my family in our new, debt free life, we can easily save a year's worth of expenses, work part-time, and stay home with our kids. When we were in debt we could not do any of those things. The thing I wanted to do most was stay home with my kids and husband When we had debt, that just wasn't an option. I had to work a job I didn't want to work if I wanted the debt gone. So, is that slavery? I'll let you decide.