I have a 1994 Mercury Grand Marquis (His name is Marquis Mark!). I purchased it from a friend a year and a half ago for $500. Since that time I have put about $1,500 into it. This was done about a year ago to keep it safe and to fix a couple of oil leaks.
I have been saving money for another car once this one dies. But given my situation (living in a fairly rural town without any friends or family nearby), I am worried about being stranded should it break down on me. Therefore I have been thinking about getting another vehicle before it actually dies on me. Also, it is hell on gas consumption.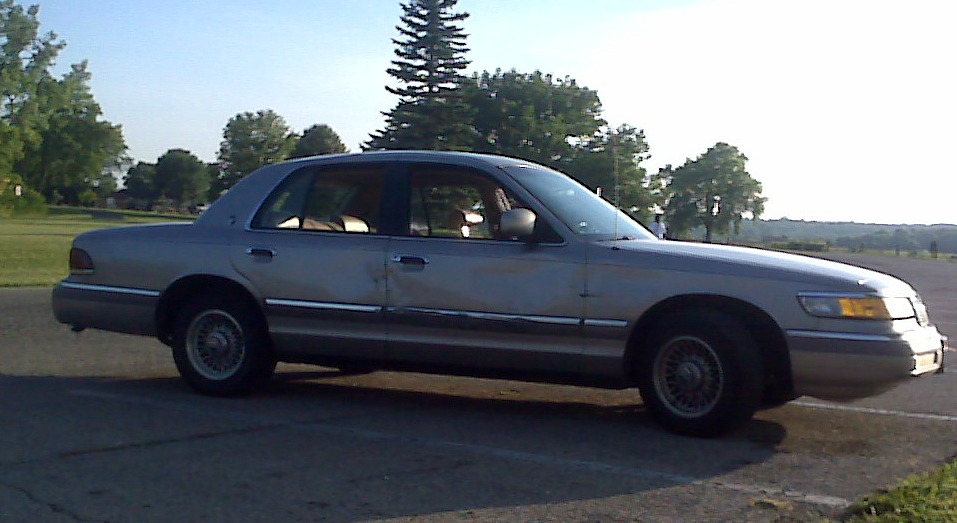 Marquis Mark is showing signs of struggle. I have to add oil to him every month, sometimes as much as 3 quarts. It has been totaled twice in it's life time, the last of which was not repaired. Three of the automatic windows do operate properly, the material on the ceiling is hanging down in the back and probably most noteworthy is the leak. When it rains, my car floods! I have had, literally 2 inches in the back of my car. It appears to be coming in from underneath. Due to some internet searching that I have done, I think there is a leak in the rear window and the water is flowing in under the seats.
Needless to say, Marquis Mark is not going to last for very long. I have been trying to put away some money to buy another car very soon and in the meantime, I've had this crazy idea to help defray some of the costs. But what do I do with my car when it is time to get rid of it?
 Should I donate or sell my car?
I think I could sell my car fairly easily for about $500. Kelly Blue Book says that the value, in Fair Condition is about $1,200 but I don't think I'd list is as fair. It runs, for right now.
I could donate my car to charity and use it as a tax write off. I'm self employed and can use all the exemptions that I can get.
So which do I chose?
When donating a car, there are a couple of points that are beneficial to know.
1. In 2011, the IRS began to require a proof of sale with your tax return when you donate your car to charity and plan to deduct more than $500 from your taxes. When doing this, you'll need to wait until the charity sells the car to find out the sale price of the vehicle. That is the amount that you can deduct from your taxes.
2. Often times the charities need to use a third party to actually sell the vehicle. This reduces the amount of money they receive.
3. Be sure to research the charity that you are donating to, there are many who may not be using a large percentage of the revenue to benefit those in need. Contact the charity directly before donating and if you still have questions, contact the Better Business Bureau to truly determine if they are a worthy cause.
In the end, if you truly want to make a difference for the charity, sell the car yourself and give them a check for the full amount of the sale price. You will still get the tax deduction and the charity will be able to save money by only receiving the cash.
My Decision?
I think when the time comes I will sell the car and put all of the money that I make into a savings account. That way I can earn some interest on it until it is time to pay taxes. I would like to be able to donate more money to charities but right now, while I'm still in debt, I think it needs to be put on hold.
Anyone want to buy a car?