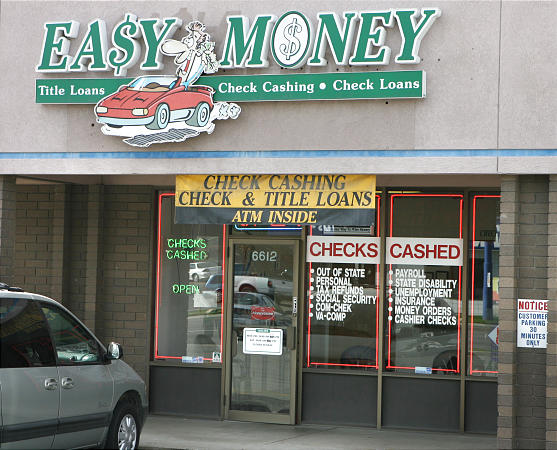 Do people really think this is "EASY" money? Can you say OXYMORON? Good because money isn't easy, and there is certainly nothing easy about paying more than 500% annually for a loan that will most likely amplify the problem instead of fix it.
Have you ever considered getting a Payday loan?
Every day many people find themselves in a position where they feel that a Payday loan is the only answer. I have been very lucky in this regard and have never followed through with one. I did consider one when I was younger but I caved at the end of the transaction. To be honest it wasn't even because of the EXTREMELY high interest rates, which is a good enough reason by itself. It had more to do with the fact that it really wasn't going to help me at all. Because of the fact that this legalized loan-sharking company would have owned my next paycheck, I wouldn't have received a paycheck for almost 3 weeks. Chances are I would have returned to apply for another payday loan before the 3 weeks was up! This is how the cycle begins, and this is what the Payday loan companies want. They want you to come back!
The borrower is certainly a slave to this industry!
Starting at somewhere around 500% APR, these loans can reach upwards of 1000%. The biggest problem that I have with these companies, other than the fact that they get away with this, is that they are getting rich off of the working poor! Lower income communities are showered with these rat holes! I am not one for Government intervention, as I believe that the Government usually makes things worse, but I do feel that it is about time we slap some regulations on these types of loan companies. I have had family members get involved with these rip off loans, and the cycle that follows is staggering to say the least.
By continuing to do business with these goons you will never experience what financial freedom feels like. Bondage to this degree keeps people from ever getting ahead.
How do you deal with financial hardship without getting a payday loan?
Unfortunately this is not an easy situation but I do know that there are other alternatives. For instance, if you are needing money for food in an emergency situation there are plenty of groups, churches, and organizations that provide these types of services. My church uses a program that helps people in these situations to help with rent, required utilities, and food.
If you are considering a payday loan to get current on car, rent, or mortgage payments then there are some things you should first consider. Perhaps it is time for you to reconsider what you can afford. Some would argue that you would be totally in the right to go and get a payday loan to keep from losing your car or home. I happen to disagree. For starters I would rather use a credit card than get ripped off by a payday loan company. To get ripped off on a loan in order to keep something I can not afford is insanity in my opinion.
Can you have a yard sale, put stuff on Ebay, or find some other way to make some money quick without hurting yourself even more financially? Shouldn't you at least try??
The solution is in your mirror!
When it is all said and done it usually comes down to your priorities and decisions being the root cause. The number ONE reason you shouldn't have to EVER get a payday loan, is that you should have a Baby Emergency Fund (BEF) set up!! If you make under 20K this amount would be $500. Otherwise your BEF should be $1000. If you have no debt at all your Fully Funded Emergency Fund (FFEF) should be 3/6 months of expenses.
Number TWO, if you are struggling bad enough to consider bondage of this type, wouldn't you be better off dumping the car and getting a paid for car that is within your means? Is your mortgage or rent payment more than 25% of your monthly income? If so, a payday loan is not going to save you! The problem is still there. It is no wonder that people who find themselves in these circumstances, end up right back where they left off. It is imperative that you change your habits if you want to get different results!
Understanding vs. Reality
In closing I wanted to say I understand completely! I have been there financially and emotionally. The emotions involved when you have absolutely NO money, but face financial struggles, can be overwhelming and extremely exhausting. However the reality is, you MUST not give in to those emotions because God has programmed you with the ability to overcome difficult times. For nothing is impossible with God. LUKE 1:37

The abilities you possess are incredible, all you have to do is unlock your potential. You can do this, just believe in yourself, and don't be afraid to ask your church for help. That is what they are there for. If you find yourself in a similar situation I hope you do not consider a payday loan as the answer. The answer is in your head, you just have to find it!
Good Luck and God Bless!
**If you have enjoyed this blog, please remember to subscribe so you can keep up with my postings. Also, if you are interested in becoming a part of my new forums I would love to have you. Please register by clicking the banner on the sidebar.