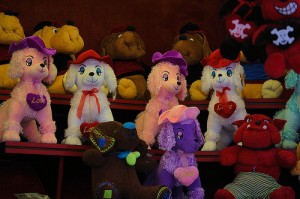 I recently heard about a really cool concept that started abroad and is making its way to the US—prize linked savings accounts. Just for doing what you're already (hopefully, should be) doing, you are automatically entered to win a prize. Yes, adults like prizes and anything that is free just like kids do.; a novel idea that has more people thinking about saving for their future.
This comes at just the right time, with the rate of savings in America at an all time low. A report issued by the non-profit Corporation for Enterprise Development, found almost one third of all Americans have no savings accounts at all and about 44% don't have sufficient savings or liquid assets to keep themselves out of poverty for more than three months should they lose their income.
How do they work?
By playing tricks on our hard-wired psyche to "win" something, prize linked savings account make you want to save by dangling the carrot of a potential reward. Let's face it, we all need a little motivation sometimes when is comes to things like saving money and losing weight.
The general concept is similar to the lottery, except you don't have to "spend" anything to win. Instead just by depositing money into one of these accounts you are automatically entered. Not only are these types of accounts a great tool for savings, there's the potential to win something, maybe even cash that could help you reach your debt goals as well.
Where do I find one?
Prize linked savings accounts are still not widespread across the US, but states such as Michigan, Nebraska and Washington offer these types of accounts, typically funded by a credit union. Recently Maryland passed legislation to allow credit unions and banks to participate in prize-linked savings programs as long as the contests are designed as sweepstakes and not lotteries.
A similar idea can be found at the Save Up website. Just by registering your financial accounts you can be awarded "credits" when you save money or pay a bill. Additional benefits include the ability to track your progress with charts and graphs. According to Save Up, the prizes range from the "small", like gift cards and electronics, to the life changing, including cars, vacations, and a $2 million jackpot.
Still not convinced a prize linked savings account is for you?
No matter what stage of life you are in saving for future should be both a habit and a priority. Over the last several years the economy has taken a turn for the worse; foreclosures, unemployment, and healthcare reform have made personal finance hit closer to home than ever before. Those that thought they were immune from financial disaster have found themselves struggling. To compensate they have resorted to dipping into retirement savings to pay off debt, not saving at all, and using credit cards to fill the budget gaps.
Make savings a priority; pay yourself first, and think about using one of these prize linked savings accounts to keep you motivated. If you have to start small; even $5 a week makes a difference-I promise you won't even miss it!
Have you tried using a prize linked savings account? If not would you consider it?