American Express? Yep, You Read That Correctly
I was recently contacted by someone who wanted to know if I would be interested in getting paid to write articles geared towards helping young people become more financially responsible. I responded with interest and wanted to know more. When I found out that the new site called CURRENCY, was being developed by American Express and Federated Media, I chuckled at the irony, but the timing couldn't have been better.

Currency Launched on Tuesday. Here are two of my published articles:

If you enjoyed them, please "Like" them on Facebook, share them on Twitter, or both. Thanks, and I appreciate your support! 😀
I like this feature: Look Into Your Financial Future
Moving on.
If American Express is making an effort to educate young people about financial responsibility, I'm excited to be a part of that. I don't feel guilty or conflicted one bit since my views on credit cards are now less extreme and more rational than they once were. They changed long before this opportunity ever surfaced. (link below)
I did get a few emails from a few people though. Some were shocked and curious, while others were arrogant and obnoxious. For the most part I was congratulated for the opportunity, but a few seemed to be looking for that "gotcha" moment. My response to them would be that people grow and opinions change.
What hasn't changed is this, if you have even one credit card with a balance you can't pay RIGHT NOW, I think you need to chop that card to pieces until you can learn to spend less than you make. How's that for a little Behavior Meets Reality—Enemy of Debt-style? 🙂
Extreme Views of Credit Cards Past
Over a year ago, my views on credit cards were rather extreme. After all, I was a product of Dave Ramsey's Financial Peace University (FPU) where people were encouraged to cut up their credit cards in class. The very first FPU I ever lead, the class bought me a giant pair of "Dave Ramsey" scissors with Enemy of Debt inscribed on them at the final class. I love those scissors, because they remind me of INTENSITY and BETTER FINANCIAL CHOICES! They represent action!
I swore off credit cards because I needed to. My habits were out of control, as are most of the people who go through Financial Peace University. I agree with Dave under these circumstances, cut them up!
Some bloggers will even remember me getting geared up to host an idea I had, called The Great Credit Card Debate. J Money from Budgets Are Sexy and myself, were going to take different sides on the issue, and each month, two different bloggers were going to battle it out on our blogs. I was to host the "hate" credit cards side, while J Money would host the "love" credit cards side, hence the irony mentioned above.
It was supposed to happen January of 2010, but it was then that I started really thinking about how much sense it made to hate credit cards, when there were people out there that actually handled them responsibly.
I published some pretty hardcore opinions about those views,but as I grew and my financial situation became stronger, those views changed. I can admit when I'm wrong.

It took me a couple of months to realize, hating credit cards, or credit card companies, was irrational at best. It was debt that I wanted people to avoid, which was the NUMBER ONE reason I started blogging in the first place. The problem isn't credit cards, it's the person using those cards to acquire debt on something they CANNOT AFFORD!
What I realized is that hating credit cards for running up your debt is like hating Chic-fil-A for making you fat.
Some people can eat their delicious chicken sandwiches and fries responsibly, and some cannot. To say NO ONE should eat at Chi-fil-A because some people cannot handle it is wrong.
Some people can use credit cards as a personal finance tool, and some cannot. To say NO ONE should use credit cards is wrong.
I for one, used to be that guy that could not!
On May 19th 2010, I wrote Your Financial Mindset Determines Your Ability To Handle Credit Cards, which was my first official article explaining my shift in position.
Debt can be used responsibly too, doesn't that change your opinion about debt?
Nope, not even a little bit, because using credit cards responsibly doesn't require you to be slave to any lender—debt ALWAYS does—whether you want to admit it or not. Not owing someone money WILL ALWAYS BE BETTER than owing someone. Even people who believe in debt have to admit that.
My Official Stance on Credit Cards
I no longer feel that credit cards are evil. I admit I used to feel that way, but as I explained earlier, I realized that a credit card by itself, IS NOT DEBT! My beef is with debt, and if you use credit cards to buy things you really can't afford, YOU ARE the problem!
If you are in debt, and looking for answers to your debt-filled problems, cutting your cards up is a great idea! You need to get control of your habits before it's too late, and sometimes extreme circumstances call for extreme measures! If that means cutting them up to save yourself or your family, you better get to snipping!
J Money and I used to have some pretty fun discussions about this topic. Trust me, it wasn't angry like "Liberal Vs Conservative", it was actually productive. I would even say that our friendship developed out of a mutual respect and understanding of one another. Check out our debate in the comments section of Money Funk: 6 Financial Things I Wish I Had Known When Starting Out in Life. (Notice that even then, I was at least reasonable about accepting that some could use credit cards responsibly.)
That was an AWESOME discussion, and the best part is, I was given the opportunity to write the storyline for the Personal Finance Comics , so I chose to base it on that friendly debate. 😀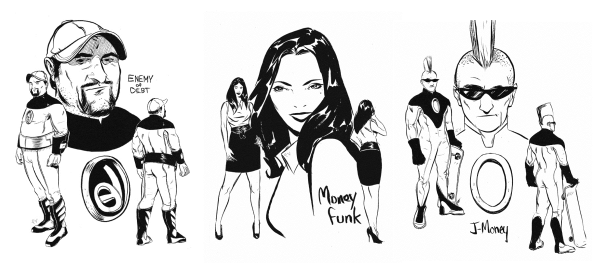 Now, all three of us are writing for American Express!
Basically, it boils down to this. If you have adequate emergency savings of at least 3 months of expenses, and have no debt to speak of, I don't see credit cards being a problem for you. With that said, I'm assuming you will be paying off whatever you charge every single month, IN FULL—NO EXCUSES.
Take away those qualifiers and I believe you are putting yourself at risk.
Even most credit card companies warn you about the dangers of spending more than you can pay back. For example, American Express partnered with Junior Achievement to give this advice on using credit:
"Don't spend what you can't repay. Using a credit card is borrowing money and paying it back with interest. Because you're not using cash from your wallet, it's important to keep track of what you've charged to your credit card. It's best to charge only what you know you can pay back each month." (my emphasis added)
Do I Now Use Credit Cards Because of This Change in Position?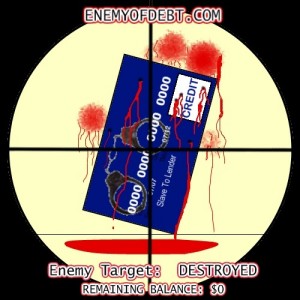 Nope, not a single one. In 2008, I Killed My Credit Cards, and I 'm pretty sure the relationship has been damaged. 😉
Seriously though, I think they can be useful to some, but I don't think they are necessary. We have not applied for any cards and do not see ourselves doing so in the future.
Do I think we could handle them now?
Sure. I am pretty confident that the habits and behaviors that put us $26,000 in debt (without the house), are under control. We know better now, and as hard as we worked to pay it all off, there's not a chance in this world, we will ever return. Still, if it is not broken, don't fix it.