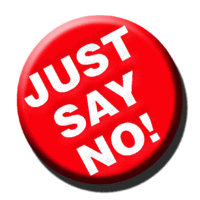 Once a month I may get something from a company that wants to partner with Enemy of Debt in some way. The one I received today was a little different but not really.  She claimed to read a blog of mine, but maybe she needed to read more of them before contacting me.  Her company was nothing more than a debt CONsolidation and negotiation company.  My response was respectful, but to the point.
The OFFER:
Hi! I was checking out an article called "I Hate Debt, What About You" on your site www.enemyofdebt.com, and was thinking that I have a resource you may find valuable. My name is Colleen *****, and I represent ****.com, which is a website dedicated to helping people relieve themselves of the financial burdens that come with debt. I think this could be a great tool for your people wanting to spend less money in their daily lives! This site provides people heavily in debt a way out, without ruining their credit for years. This way, if they would like to make some great financial decisions, like using money more wisely after being laid off, they will be able to do so. By providing a link from your site to ours with words like how to decrease credit card debt, you may find that your readers find great advice for reducing their debts, as well as being wiser with their money in the future. Please E-mail me back and let me know what you think of the idea. Thanks for your time!
Colleen
My Response:
Hi Colleen,
First I would like to thank you for contacting me.  I have to respectfully decline working with you for a number of reasons.  For starters I do not believe in teaching anyone to pay a company to solve their financial problems.  (i.e. debt consolidation, debt management, debt negotiating companies.)  It has been proven that families already have that ability to do the same thing themselves without paying fees in the process.  Not to mention it does nothing for the families ability to remain out of financial trouble because the behavior is not addressed.  Statistics tell us that most people that use these companies go right back to where they were.  It's the same when someone pays off a credit card.  All they see is a zero balance and an opportunity to go buy something else they can't really afford.
I am also not a believer in the credit system, or the FICO score.  That score is derived from the constant accumulation of debt, and as you can see I am the ENEMY of DEBT, not the Ally of Debt.  The reason people are finding themselves in their current situation is because they believed the MYTH that told them to go get debt in order to "build" their credit score.  Instead of building their credit, I believe they should be building their wealth.  Imagine a land where people use wealth to buy things rather than debt.  Ahhh…utopia!
Your company may have good intentions, but I just cannot work with anyone who has conflicting beliefs.  Integrity is most important to me and I will not jeopardize that for anything, especially a few bucks.  I am very strict with this policy but I thank you again for your offer.

Additional Thoughts On Debt CONsolidation

Stay away from these companies!  Learn how to get out of debt yourself, and without paying expensive fees to do so.  You have the ability to negotiate your own debt settlement.  The money paid in fees could be used to pay off debt!  Using these companies is just like sweeping dirt under the rug.  The dirt (your financial habits) is still there, it's just that no one can see it-including yourself.  ATTACK the problem, not the symptom by addressing what caused the problem in the first place.  Get rid of the dirt, don't hide it!
Lesson For The Day
Take control of YOUR life and hold yourself personally accountable for your mistakes.