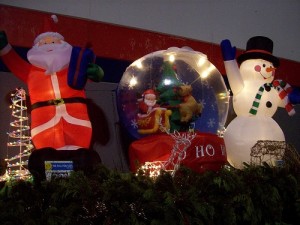 "Mommy please can we get one of those inflatable Santa's?" This is the plea I have heard from my eight year old son since we began to decorate (with our already purchased) holiday decorations the day after Thanksgiving. My answer remains constant, "Not right now buddy, we don't need an inflatable Santa." 
Unfortunately millions of Americans apparently do feel they need inflatable Santa's, two Christmas trees, and thousands of twinkle lights to adorn their homes so they can feel the magic of the holidays. 
According to a Bloomberg report, "This year U.S. consumers will spend $6 billion on decorations, the most in at least seven years, according to the National Retail Federation, which began tracking the data in 2005." 
Why the Increased Spending on Holiday Décor?
Different strokes for different folks I guess. We all spend money for different reasons; to make us feel better, out of necessity, or because we feel compelled to have a coveted item. 
The holidays are a time when many of us, despite what may be happening in our lives feel more sentimental than usual and this can lead to increased spending with money we don't have.  
This is why CareOne Debt Relief Services  see's a decline in new enrollments and a surge of posts in their community with customers stating, "I can't make my payment this month, can I skip it?" 
No one wants to part with their credit cards over the holidays because they feel that they need them to purchase holiday gifts, decorations, and items for holiday gatherings. By participating in a Debt Management Plan the goal is to stop using your credit cards and pay off the balances, not get into more debt. This is why most customers' credit card accounts are closed and CareOne recommends they include all of their accounts in their plan; to avoid the temptation at times likes this. 
Skipping payments even around the holidays is not recommended as CareOne states, "You are only delaying your progress and run the risk of losing benefits you may have been provided by creditors." Even with that risk many customers forgo their December payments in an effort to make their holidays merry and bright with increased spending on credit.
For those trying to get out of debt on their own the same concept holds true. They pay only the minimums on their cards, skip payments, or open up additional accounts around the holidays. 
Saving for the Holidays
A concept that has seemed to lose its luster over the years are Christmas club accounts offered through local banks. When I was younger I remember hitting the bank with my mom when she received her weekly paycheck and watching her whip out her Christmas club book for the teller to stamp. The amount she applied to the account each week was small, but it added up to magical Christmas's for my brother and I.  
As I have said in a few previous posts my dad's motto when it comes to spending has always been, "If you can't afford to pay cash, you don't need it." While my mom no longer does the Christmas club thing she carefully saves each month of the year for holiday presents. While not considered rich by today's standards my parent's have absolutely no debt and don't intend on incurring any. 
Holiday Magic Doesn't Have to Cost a Thing
I know my son wants an inflatable Santa for our yard, but I am just not willing to blow my budget to see him smile. Instead I have several activities planned for the upcoming weeks that are sure to make his face light up:
A drive through a local neighborhood, that goes all out with their outdoor light displays.

 

A holiday movie marathon in our pj's while stringing popcorn and sipping hot chocolate.

An afternoon of holiday baking done with (almost free) ingredients I have been purchasing with coupons and sales.

A visit to see Santa at a local nursery complete with free games and activities for the kids.

 
While most of these events are specific to my geographic location, there are many similar activities available all across the country. Do your homework, ask around and see what kind of magic you can dig up for your family.  
For me the holidays are a special time and nostalgic, but I won't let my emotions snuff out my financial goal to live debt free! 
How do you feel about inflatable Santa's and using credit to fund the magic of the holidays?