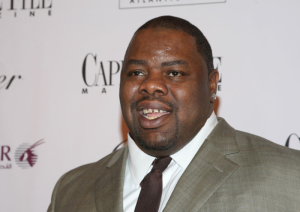 This weekend I had a connecting flight in Baltimore. On the way to my gate I saw Biz Markie getting ready to board a flight to New Orleans. I checked his Twitter feed and found he would be performing in Baton Rouge that night.
If you don't know who Biz Markie is then just search YouTube for "Just A Friend". Yeah, now you remember.
What amazes me is that he hasn't changed a bit. I would know, I saw him perform live at the Rosemont Theater back in the late 1980's. How does a rapper who hasn't released an album since 2003 continue to rock the night clubs and parties?
Repetition
Persistence
Focused goals
These are the same ingredients that can help you become financially secure.
Repetion
Biz didn't retire when the records stopped selling. I think Biz may be working harder now to get gigs than when he started out 25 years ago. It was easier back then because everything was still fresh, the record was still hot. Now he works every angle around his established position (what people now refer to as "his brand").
Biz Markie's wikipedia.org bio is peppered with numerous performances of "Just A Friend" on late night shows and MTV flashback appearances. He even performed the song with Jeff Goldblum in an appearance on Late Night with Jimmy Fallon in 2010. In essence, the record just keeps playing.
Shouldn't he retire the song? I don't know, should you stop working at your current job? Of course not. You keep showing up, you keep delivering, and you continue to improve or reinvent yourself so you can remain relevant in your career. You keep sending money towards your debt or saving towards retirement – even when it seems like new opportunities to score overtime or cut expenses dry up. Keep hustling and keep working all the angles you can.
Persistence
Another key ingredient for building financial security is persistence – also known in the industry as "stick-to-itiveness".
Biz Markie keeps working the circuit – even after his songs stopped hitting the charts. I can only imagine there were times when he thought about quitting and doing something else. Is rapping the only thing he can do? Nope. He continues to find ways to be relevant in the entertainment industry with appearances on Men In Black II, opening for Chris Rock in the late 2000's, and spinning records at parties.
When times get tough it's time to get tougher. There will be flat tires and medical emergencies in the middle of your get-out-of-debt plan. You can't quit when the record stops playing – you need to get out there and keep rockin' it.
Read more about persistence and the secret to getting out of debt here on my blog.
Focused goals
Do you think Biz Markie ever dreamed he would still be partying in night clubs when he turned 50? Did he have a 30 year game plan? I doubt it, there is no way to predict our future that far in advance. But here we are 25 years later and he's playing the Stadium Club in Washington DC, the Lyceum Ballroom in Baton Rouge, and the Pier One Pavilion in Baltimore – all within 10 days.
He remains focused on his goal of entertaining people of all ages. I don't need to prove to you that focused intensity turns light into a laser. Add a bit of focus to repetition and persistence and you have the building blocks of a success story.
I haven't thought about Biz Markie more than a few times over the past two decades. He's not in the news, not on the charts, and isn't co-staring in the next big reality show (yet). He doesn't have to be. Biz Markie continues to be The Biz.
Keep Workin' Like Biz Markie
I'm inspired by his story and his ability to still work his craft. It's proof once again that you can keep working at something for a long time and turn it into a success story. You don't have to win the lottery or inherit a bunch of money to be financially successful. You just need to keep working your moneyplan, be persistent and focus on your goals.
Now, if you will excuse me – I'm Goin' Off because I Need a Haircut. Maybe I'll do it this Weekend (Warrior) after All the Samples are Cleared. (Only a true Biz fan would know what I'm talking about).
What, or who, inspires you to be persistent and stick to your get-out-of-debt plan?