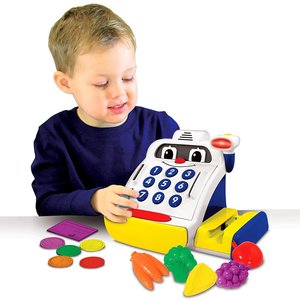 Do you want your 2 year old "learning" to swipe a credit card?
This Christmas Noah (our 2 year old) was given a Shop and Learn Cash Register.
At first I was excited.
The nerd in me eagerly opened it up and secretly drooled over the idea that Noah was going to start learning about money. It had buttons, sounds, lights, a working coin drawer, a scanner and groceries to ring up. Perfect fun right?
Then I noticed it also came with a credit card.
I'd rather it not have a card at all — debit or credit — but still I wasn't bothered at first because I figured I could just refer to it as a debit card and explain things as needed or just throw the toy plastic away.
Then I heard the register give the option to "scan the credit card or insert coins."
To some people this may come as no surprise and to others it may not even matter but I find it extremely inappropriate for a "learning company" to promote the use of credit cards in kids toys.
I don't care what side of the credit card debate you find yourself on — my question is this — is it really necessary to plant things such as this in the mind of a child? Aren't credit cards and the responsibility that comes with them something a little more appropriate for high school students? Regardless of how you personally feel about credit cards I think that kids toys — especially ones in the "learning and development" category — should be more age appropriate.
The box says "Play and Learn". Yeah…learn how to swipe a stupid credit card.
Not in our house!
Why is it necessary to have a credit card with a kids cash register — especially for a 2 year old?
Why not just have a register that allows your toddler to learn about coins, counting, and paying for groceries?
If the card or the toy would have promoted Visa or any brand of credit card I would have thrown it right in the trash and thankfully it didn't. Noah loved it and I certainly didn't want to hurt the feelings of the gift giver who already felt bad when she realized the part about the credit card.
I doubt many people think twice about this kind of thing but I think they should. Americans now owe 798 billion dollars in credit card debt so it's safe to say we have a problem with the concept. Kids don't need to be bombarded by something adults can't even handle responsibly.
Kids are young and impressionable. To know that companies out there feel the need to even try marketing the idea of credit to a 2 year old is disgusting!
I wonder how many little girls had a "Cool Shopping Barbie" — that came with a Visa credit card and said "credit approved" when the card was swiped — and grew up thinking it was cool to swipe a credit card. ($798 BILLION…HELLO!)
Credit companies know what they are doing. They are trying to put the idea of credit in kids minds to secure their crappy financial products (and profits) for years to come.
I'm sure some will say I'm overreacting and maybe even a tad paranoid but I know millions of dollars are spent on marketing to children.
They don't spend that much because they hope it works. They spend that much because IT DOES WORK!
What are your thoughts about this? Do you think I'm being ridiculous or do I have a legitimate gripe? Should 2 year old kids be "taught" about credit cards? We protect them from other things we feel they shouldn't be introduced to at such early stages of development. Why is this different?