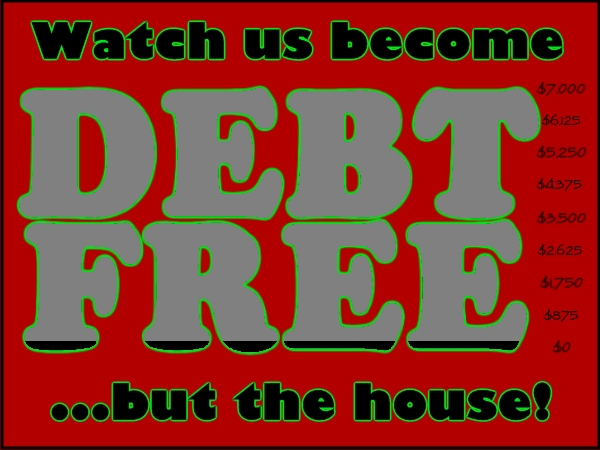 Tomorrow is Thanksgiving Day! HAPPY THANKSGIVING!

I am so thankful for everything the Lord has given me and my family.  I am thankful for His direction when times got hard.  I am thankful I was shown my purpose to help others become debt free and experience financial peace for themselves.
I am very thankful for Dave Ramsey and what he does.  It is because of his plan that we only have less than $7,000 until we are debt free but the house. Thank you Mr. Ramsey, we'll be calling you soon!
I am so very thankful for the wife I am blessed to have.  Alana has put up with my hardcore, and sometimes overwhelming desire to become debt free.  I am thankful that she was able to see past my flaws in order to see that my desires had her, and our family in mind.
I am thankful for Fatherhood.  It is one of the greatest gifts I could ever recieve and experience.  To my children:  I love you with every ounce of my being!!
I am thankful that Trinity Presbyterian Church allowed me to bring Financial Peace University through the front doors.  It is an honor and blessing to be able to touch other peoples lives, and give them hope to be able to live debt free themselves.
I am thankful for my family and friends.  My family is great and the friends I have made through FPU have stregthened me as a person.  I look forward to many more friendships to come.  There is tons more that I am thankful for but these are the most important.
With Murphy Finally Gone!!
We are going to have gazelle like intensity and focus on killing our last bit of debt.  Our student loans are as good as dead to us.  The next FPU class I am doing starts on January 18th and our goal is to have the student loans paid for by the end of the class.  (13 weeks)
We can taste the freedom!!  Just the thought of us never having to borrow money EVER again is completely awesome!  I can not wait to fill up the debt free graphic above.  By the end of November we are hoping to have $6,000 left to pay.  That will be a terrific start!!