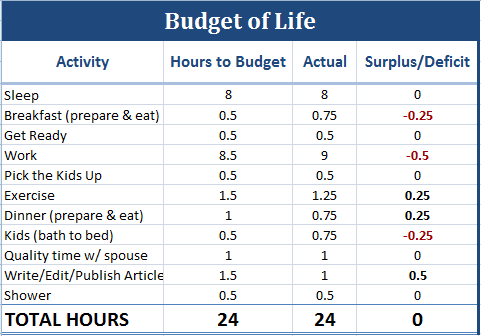 What if Forest Gump would have said, "Life is like a budget. if you have a plan you'll have some idea of what you're going to get"? Nothing is perfect, so I am not suggesting that just having a plan is enough. Plans go wrong, but that's precisely what this post is about—treating your life like a budget when they do.
Think of it like this. You have 24 hours in a day. In that 24 hour time you have to decide what you are doing and how long it will take you. If you spend more time on something than you "budgeted" (even if only in your head), then you must adjust your schedule to be able to fit everything else you needed to do in. Something has to either be crossed off the list of things to do (cut from the schedule), or at least require a reduction of time spent on them—just like a budget.
The bottom line is that you cannot borrow hours so that you can finish everything you want to do. The only options you have with time are to better manage it, and to learn how to adjust to your ever changing life, that seems to constantly feel like over-drive.
Just like with managing a monthly budget to help you better spend what you have, managing your time can be equally important to finishing your daily tasks in regard to priority. When you pay your bills, you typically prioritize your expenses according to how important they are. Unfortunately for many, what's important to them may not be in their best interest, but I digress. 😉
We all have a tendency to neglect what's important to us from time to time. I've neglected my health. I've even neglected my wife in the past, at times, more so than others. When I first started EOD, it was a huge problem for us. I literally spent too much time on getting everything just right, but sometimes waiting for just right is like trying to buy happiness—it's a never ending road.
When I quit delivering pizzas I thought it would make it a little easier, and it did at first, but it seemed to only pull me in deeper making me feel like I had to do even more. Life is too short and too precious to miss the things in life that are important. How do you make time in your life to make sure you do the most important stuff FIRST?
You Treat Your Life Like a Budget
If your income represented 24 hours, each expense would represent each activity in your day. You could break it into weeks, months and even years. Do you have 2 major things you would like to get done this year? Financially, it could be saving money for a trip and saving money for a nice new used car. In life, it could be taking your wife to a ballet and losing 100 pounds.You can work on yearly goals monthly; monthly goals weekly; and weekly goals daily—basic goal setting techniques suggested by experts like Brian Tracy.
Unfortunately, debt has allowed us to spend more than we make, but thank GOD we can't borrow more time, because if we could, we'd really be in a mess. Who would you be a slave to if you were living on borrowed time?

This is something I have been thinking a lot about lately. As I have stepped up my efforts to lose weight, I have lost approximately 1-2 hours a day in the process. For all you bloggers out there, you know that that's a big deal. In money terms it's like losing one days pay. If you lose one days pay, SOMETHING has to be cut from the budget, that is, unless of course you are the Government, or you earn more money. (Sorry, I just couldn't resist that one.) For the rest of us though, it means prioritizing the spending and cutting the most appropriate expense. (right?)
In the budget of life, you have to do the very same thing!
For me, writing a post, editing that post, and making sure it is fully ready to be published, can sometimes take me more than a couple of hours. I rarely write a post that's less than 800 words and quite often it exceeds 1000 words. I could cut my articles down to be 200-400 words, but I have a lot to say, and doing so would actually take me longer because I would have to edit so much out of my first draft. I get paid to write for another website, and I have to give them no more than 250 words. I can't begin to tell you how hard that actually is. Maybe I could try to stick within 500-700 words though what do you think? 😉
What if you've got more than one blog taking up your time? It can get very time consuming, am I right? LOL
For most of us, if we go over in something that generally means we get less sleep. Why one of the most important activities gets cut I'll never know. Working late at the office, school, trying to finish that blog project, or any number of things cause us to go "over budget" with our time. I know I tend to cut my sleep and sometimes that means I get less than 4-5 hours. That really catches up with you though, so I don't recommend it. Doing that for MANY years has caused me some serious sleeping problems, and it's not a stretch to throw health issues in there either. As I talk about this, I am up at 1 a.m. writing this post. See what I mean?
I know that I have to better manage my time. Sometimes I am not 100% efficient in writing my articles in a timely manner. The internet and being on the computer alone has so many distractions. Social media, EMAIL, other blogs, videos, news, and too many other things to actually finish naming them all. I get very distracted online, and some (my wife) would even say I am severely A.D.D. LOL I love you honey! 😉
So I guess the point of this post is to get you to think a little deeper about what you could possibly be neglecting in your life. For the longest time I neglected my health so that I could finish other things. Look where that has gotten me. Now I have to work REALLY hard to fix my mess—just like with debt.
Do you struggle to get everything done in a day? Do you constantly feel you need more time? How do you cope with these struggles and what is it that you cut from your schedule when you do run out of time? What are you neglecting as a result?
Do you need a life budget?