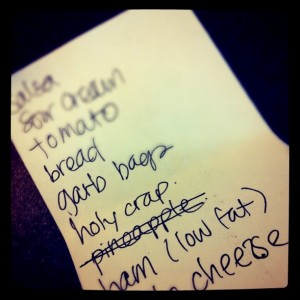 I love lists! I make lists for everything, from to do lists, to bucket lists, to what to watch on TV lists. But where my finances are concerned I like my shopping lists best. I rarely go shopping without a list. Why? Because shopping lists save you time, money, and stress.
Shopping lists save money. I consider making a shopping list kind of like shopping from home. You take a look around and decide what you need. You can make your shopping decisions without the glitz and glamour of the store. There is no wandering around the store to see if there is anything else you need. You won't see that shiny object calling your name. "ohh, look at that! How have I lived so long with it?" I know when I wander a store out of boredom they can usually sell me something I don't need.
If you make your grocery list from a meal plan you are also setting up you can save a ton of money on groceries.
Not only do shopping lists help you curb impulse purchases, they help you say no to your kid's cries for items too. Lists take emotion out of shopping.  "Gee, sorry, that Lego set, … not on the list!"  You're like the doorman at the cool club.  Only the cool club is your shopping cart.  It's your job to keep those not on list waiting in line.
Shopping lists save time. When you make a list you are sure to get everything you need. You dont' get home and realize you forgot eggs and then have to make another trip. And of course, again, be exposed to all the shiny things!  No need to run to Target because you need one thing. Might as well wait til you need a few things. You won't forget what you need since you wrote it down… on your list.
You also save time by being more efficient.  You can go straight to what you need and getting out of the store in record time.  Lists help you shop like man!
Shopping lists save stress. I don't know about you, but lack of time and money are high up on my list of things that cause me stress. (I don't actually have a list of things that cause me stress, but maybe I should!) Since using shopping lists save me both time and money, they also reduce my stress. When I write something down I no longer feel the need to remember it. It's one less thing rattling around in my brain. That leaves me room to concentrate on more important things.
Do you keep lists? Do you love them as much as me? Which is your favorite? Am I crazy? (Yes)