I have recently been thinking about how loans, gifts, and the absence of boundaries affect relationships.  Have you been in a situation where family or friends gave you a loan to help you get through a rough spot?  Have you received multiple gifts from a loved one?  On the other hand, have you given a loan, or tried to help out by giving a loved one a gift or gifts?  I want to discuss with you today the cause and effect relationship that all of these scenarios create and why it is important to implement boundaries.
When I Give A Loved One A Loan I Am Helping Them
First of all, when you give someone a loan you are by definition becoming their master.  Whether you want to have that kind of relationship or not, the choice is not yours.  The person that got the loan is in debt to you.  You are not helping them, you are hurting them.  Whether you know it or not you are giving them extra stress and guilt all because of the fact that they owe you money.  That might not be your intent but it doesn't matter.  How many people do you know that have been on either side of the equation, only to find that the relationship is damaged forever, or at least until one forgives the other?  Is risking a relationship with someone you love worth it?
The truth is that when you give someone a "loan",  you expect that money back.  When you loan someone money you are trusting that they will pay you back, but what if they don't?  Let me just say that if you love that person, the best thing to do in this situation is forgive the debt, and hope that you can return the relationship to a more satisfying place.  As you may know, that is not always possible.  You should NOT give someone a loan, unless you plan from the very beginning, to never see that money again!  In which case, you should just give it to them to start!  Trusting that someone will ALWAYS make the right decision can end up breaking your heart and ruining a perfectly wonderful relationship.  Don't give them bondage, instead give them a gift with no strings or added expectations.  However, you may want to keep this in mind.  If you see a pattern of abuse, "helping" them may only be enabling them.
A Gift Can Sometimes Feel Like Debt

Giving someone money or anything as a gift can be a blessing, or it could also turn into a curse.  Now normally when we think of a gift, we think of something free used to help someone out.  I think that too many people ignore the possibility that a gift can also create bondage.  Can a gift create bondage?  Can a gift meant to help, cause harm?  It doesn't have to but it certainly could.  When you give someone a gift with certain expectations or strings attached, it can cause the same "you owe me, because I am helping you" feelings to arise.  I refer to that as "gift" bondage.  I believe that a gift given under these circumstances is the same as giving someone debt.  The master servant relationship has been created because you are expecting them to live up to your standards or expectations because you gave them "help".  In other words they owe you, even it is not money, the master servant relationship has been established.
If you want to help out a loved one, do it without any strings attached.  If you require someone to meet certain expectations you really should tell them ahead of time what they are.  If they agree, then you MUST stick to what was agreed upon.  You can't change those expectations along the way. A gift should provide the help you intended, it shouldn't be used to control the person receiving the gift.
My Experience With "Gift" Bondage
I have received help from someone before and found myself experiencing the very "gift" bondage that I referred to above.  I know for a fact that this person was just trying to help, but that help turned into a control mechanism.  A way to make me feel guilty for not bending my schedule to what they considered appropriate.  Just because someone doesn't agree with your personal and possibly unfair expectations, doesn't mean that they do not appreciate your help.  The guilt trip whether used on purpose or not is a control mechanism.  "I am willing to sacrifice one of my days off, so you should be willing to do things my way", is just that.  Bondage! A control mechanism is a means to manipulate someone into doing something you feel they should do because you think they should do it.
Here's why.  When it happened to me it made me feel obligated to change my plans because this person said I should.  My plans or desires didn't matter.  It made me feel that if I didn't do what was expected, then it would appear as though I didn't appreciate the help.  This was not the case, but that is how it becomes a control issue.  Forcing someone into doing something they don't want to do, or in my case, dictating how long they should do it for, is wrong.  Since I knew that this person has the heart of a saint, with the best intentions, it was easy for me to forgive him/her.  I did not for one second think that this person was purposely trying to control me.  But just because someone does not intend on doing something, does not mean that it is not happening.  Needless to say, it still caused some friction in our relationship.  Friction that we both would probably agree, we would have rather done without.
Personally, I would rather forfeit the gift in order to save the relationship!  In fact, that's what I did.   Putting boundaries in place is the best way to do this.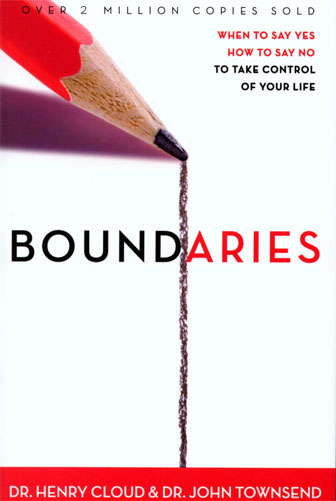 Boundaries Are For Everyone
Knowing when you have crossed the line, or realizing when you are letting someone else control you is a difficult thing to handle sometimes.  Boundaries must be set, and followed, by both parties in order to change the outcome of your relationships and in some cases to save them.  This first means realizing whether you are the compliant or the controller.  The compliant often has trouble saying no or they feel bullied into allowing someone else to manipulate their decisions whether intentional or not.  The controller usually does not like to hear the word no, and sometimes this produces anger and frustration, because the other person isn't walking the line.
I found the excerpt below on a blog that was trying to answer a readers question by using resources from the book, "Boundaries: When to Say, "Yes," When to Say, "No," to Take Control of Your Life", by Dr. Henry Cloud and Dr. John Townsend.
"For those of you who are not familiar with the term "boundary," a boundary is like a fence for your life with a gate to let good in and keep harmful out. You set physical boundaries to protect your body from other people harming it, but you also set boundaries to keep people from harming your overall life, such as being able to make your own decision for your career or free time or even whom you will marry. You set boundaries by choosing to work for a certain amount of pay instead of for free. A compliant person gives in to the forcefulness of the Aggressive Controller so that he doesn't follow through with the decisions that are true to his own beliefs, character, or goals."
The post goes on to say that both communication and boundaries are needed in such relationships in order to heal.  The compliant must first set the boundaries to be respected, and the controller must accept them.  That is where healthy communication comes into play.  Ultimately it is the compliant personality that MUST change the outcome by setting his/her boundaries.
Have you been the controller in the past?  Have you been the compliant?  I think that we all have been a little of both at some point and time in our lives, so in order to grow, we can learn from each other.  If you feel compelled to do so, share your experiences and how you may have resolved them.  What are your thoughts on the master servant relationship that is created in both scenarios above?