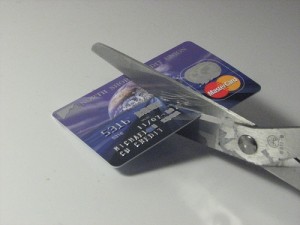 Did you ever wonder why New Year's resolutions never last? Each year as I resolve to quit all the bad habits I developed over the previous year, I always do. But if you take the right approach to a resolution such as "getting out of debt", there's no reason you can't be successful.
If you've been working to get out of debt with little success and need a kick start, consider joining the Debt Movement! We all need a little help from time to time whether it's a debt relief plan that makes the process easier, a nudge in the right direction or some incentive to get us motivated. The debt movement provides all of the above and more; including words of encouragement from those that have been in your shoes, sound advice from financial experts, and the tools and resources to make your resolution a reality.
What is the Debt Movement?
Jeff Rose of Good Financial Cents came up with the Debt Movement with the goal of helping readers of the financial blogging community pay off $10,000,000 of debt in 90 days. There's strength in numbers, and that is the premise behind the movement.
Jeff has gathered various financial experts, personal finance bloggers, and sponsors to provide the resources and support those struggling with debt need to get started on their journey to debt freedom.
Sign Up Today
There are several different ways you can participate, pick one or do all three to fully immerse in the experience.
Join the mailing list. You can sign up for the mailing list, giving you the opportunity to receive information on how to build your income, pay your debt down faster, and live debt free.
Get social. Be part of the Debt Movement via all your favorite social media channels:

Facebook

,

Twitter,

 

YouTube,

 

Google +,

RSS

Create a Ready For Zero account. Once you sign up, you'll be able to track your debt payoff using the graphs and progress bars in your Ready For Zero account. And the debt you pay down will help us reach our goal of $10 million.
Joining Has Its Benefits
Well of course the major benefit is becoming debt free, but aside from that you'll get:
A Weekly Newsletter. This newsletter is sure to keep you motivated with debt payoff success stories, never heard of before ways to save money, and the latest stats on the Debt Movement.
Interviews with Financial Experts. Theses people know their stuff and are taking the time to share it with you! Live Q&A sessions via Google Hangout, articles with juicy debt free tips, and maybe even a free book or two.
Free Resources. Credit card calculators, budget templates and debt relief guides with all you need to know as you begin your journey to debt freedom.
Chance to win a scholarship. Not only are you winning by getting out of debt, the Debt Movement sponsors are providing scholarships if you do your homework.
If you are ready to make 2013 debt free, join the movement and reach your goal with others, one step at a time. The race to pay off $10,000,000 of debt in 90 days is on! Join us January 1, 2013 as we kick off the Debt Movement and make a difference in people's lives.
Will you join us? Let us know in the comments.