If realistically you spend $300 a month on gas then you should budget for that.  If you only budget $200 you are going to get frustrated on the 20th of every month.  That frustration is going to lead to guilt and anger.  Which is only going to make you throw your budget out the window.
When making your first budget start with what you know.  You probably have a good idea of your income, as well as major expenses like your mortgage or rent, car insurance, debt payments, etc. But for a budget to be complete you need more than just the major expenses.  You need to know where ALL your money is going.  So, for at least a month you should track all your expenses.  I personally like collecting receipts because it gives the store, the date, and an itemized list of what I purchased. That way if I don't get to the receipt right away I will still have the info I need.  But you could also keep a notebook if you are able to truly write down everything you spend, or even use Mint.com or The Birdy.
If you are going to use a service like Mint then you should check it every day and enter into your budget while it's still fresh in your mind.  If you have a transaction that says "Walmart $50.00" you are going to have to remember what  you bought.  Was it groceries? Clothes? A movie?  Each of those would be a different category, you will want to know how to split it up.
The Birdy lets you send a text message right from the point of purchase (or anywhere else).  That way you don't have to keep track of your spending with receipts, it's a one and done type of thing.
Once you know what you are spending you can create your official budget.  An Excel spreadsheet with your income at the top and then a list of categories will work.  You will want two boxes next to each category.  One for budgeted amount, and then one for the actual amount spent. You Need A Budget seems like a really neat tool for those who want a premade, yet customizable, budget.  But I've never used it myself so I can't comment.
You could also check out Enemy of Debt's very own EOD Basic 3.0 Excel spreadsheet. It's customizable and FREE.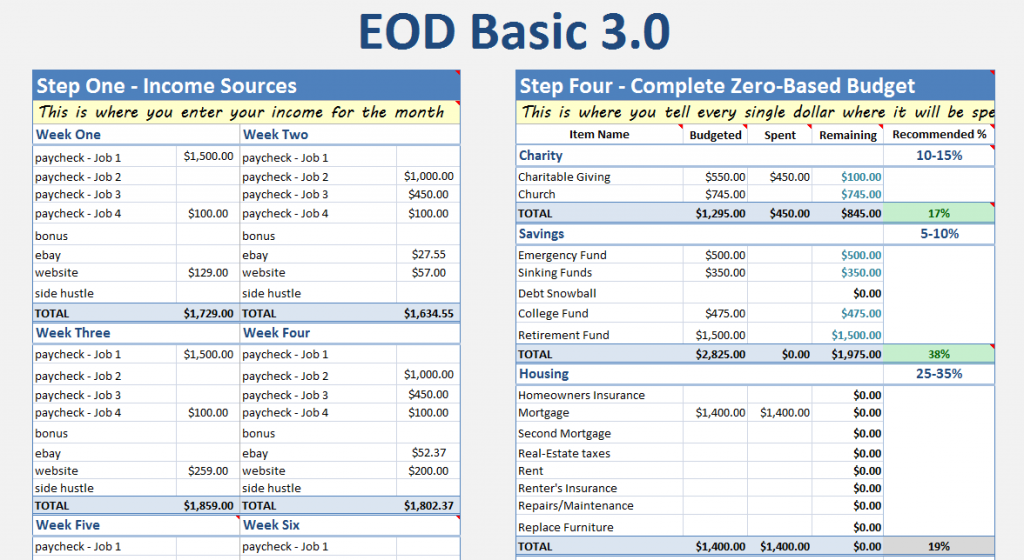 Use the information you collected to set categories and the amounts to spend in each category.  The more honest you were while collecting the information, the better your budget will be.
A budget can be very detailed, or fairly generic, depending on your comfort level.  If you are struggling with your spending then you may want to make it more detailed.  That way you can see exactly where your money is going.  When you can you see where exactly you are spending your money, you will be able to see where you can cut.  But on the other hand, if you are meeting your financial goals then the budget can be more generic if you find a detailed budget too tedious.
Personality also has a lot to do with how detailed your budget needs to be.  I like a detailed budget because I'm a dork. A generic "spending" category would make me crazy.  But I can also understand why entering a pocket full of receipts into a spreadsheet every night doesn't appeal to everyone.
Keep in mind too, having a budget isn't enough.  You must continue to track your spending so you can make sure that your spending is staying in line with your budget.  If a category is getting out of whack you can make mid-month adjustments.
Just like the budgeted amount in each category needs to be realistic, the level of detail also needs to be realistic.  If your budget doesn't fit your life it will never work.