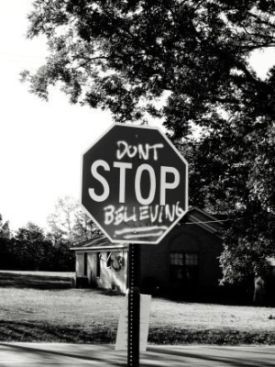 Dawn and I have been going back and forth for days now.  I wanted to share with you the difference between her and I, mainly by pointing out why I think she is wrong in her thinking.  Her thinking is how most people look at it, and what I am trying to do here at EOD is to show people that there is another way that provides more options.  I believe that more options translates into a higher success rate.  A lot of people limit themselves by not realizing their options.  I think Dawn dwells on the problem instead of providing a solution.  I do not doubt her well intentions, I just think she's wrong.  If she believes this and she writes about money, then I know others do as well.
A Perfect Example Of Victim Thinking And Limiting Yourself

Dawn: "I'm sorry, but if you have the misfortune of just a high school diploma, the kind of work you can get may be just at checkout at Walmart. People at that income level do indeed live paycheck to paycheck and it is rather hard to pay the rent, utilities, etc. without going into debt, especially if you live in an expensive state like I do, here in CT."
"But i think that people who see the crisis we're in today as a one-dimensional problem solely caused by individuals who wrack up debt, often because they have no other choice, have blinders on."
"NO OTHER CHOICE?" That is the very reason we disagree.  She thinks that people have no other choices and should accept the notion, that's just how things are.  Limiting yourself by telling yourself that you have no options, will give you exactly that…NO OPTIONS! What you believe, is what you achieve!!
"Misfortune of just a High School Diploma?"  I consider a college education to be valuable and an advantage but it is certainly not the only way one can become successful! It is this line of thinking that keeps someone believing that they can't do something when really they can! What you believe, is what you achieve!!
Me: "My point was this. If I can do something OTHER than live on minimum wage and I have only a high school diploma, then others can do the same. I am not special! Instead of accepting my struggle I have decided to be proactive in how my life turns out. It's really that simple. People can educate themselves about anything using the internet and resources from the library to help make their way. Anything is possible and that includes living without debt."
Me And The Victim Mentality Do Not Get Along
Dawn: "Lax bank regulation played a big role in the mess we're in and bankers, having the training and lending knowledge, understood the risks better than lower income people trying to get ahead. The banks were out for profit only and by looking the other way, made it possible for people who could ill afford to purchase a home to in fact do so. If the banks said "no," we wouldn't be where we are today."
Here we go blaming others again! Obviously Dawn wasn't paying attention when Washington put pressure on mortgage lenders to give loans to people that shouldn't have got them.  Also, she is suggesting that people blindly sign their name without understanding or knowing what it is that they are signing. Rule number 1: Understand anything and everything that you put your name on, OR do not complain about the end result of you not knowing!  If you understand that rule then you understand why it is not someone else's fault that YOU signed your name!

Me: "You believe you are helping people and I respect that. You are encouraging the problem by telling them that what they have been doing is NOT their fault, and I am saying maybe it's time for people to start examining their habits, and try something else. You want to place blame and I want to empower people to take control of their finances. I like my way because I know my way works and your way just continues the problem. The victim mentality is a form of slavery and I am trying to free the slaves from their own peril.
Who Is Really The One That Is Single-Mindlessly Focused?
Dawn: "Brad, I really think that you and I are on the same page…we both want people to take responsibility for their financial well being. Its not something that's often taught in schools.
The difference, I think, is that I also work to inform people of various other forces at work that are often beyond the ability of the average person to control. I'm talking about various government regulations (or the lack thereof), global economic events and just plain bad luck. You seem to be single-mindlessly focused on personal responsibility without acknowledging that sometimes, despite the very best effort and intentions, $*%# happens."
I wrapped up the conversation with this:
Me: "You are right Dawn, I personally think it is a waste of time to try and figure out who was at fault. The bottom line for me is that when people look at their situation and say how can I make it better, instead of who caused it, I think they can be more productive towards defeating the enemies that cause the bad luck and other various forms of excuses that you named off. SO WHAT if the Government does or doesn't have regulations concerning credit cards…don't use credit cards and empower yourself to live without the crutch that has become credit. You seem to be overlooking the fact that if you have a plan then those things that happen, don't really affect you all that much.
I personally believe that you are making people less active in winning because you are too concerned with having them focus on everything being out of their control, instead of allowing them to see HOW to climb those obstacles. People don't want to know that there are obstacles, they already know that, they want to know how to overcome them!
Now for why I consider myself to be an expert in this area. I USED to do what you do! I USED to look at the supposed problems! I USED to focus on why things were happening to me! It wasn't until I started reading more from Dave Ramsey, Dan Miller, Brian Tracy, and John G. Miller that I realized I was wasting my time, AND when I began to ask myself different questions. You should really read a book called QBQ- The Question Behind The Question, because I believe you focus on asking the wrong questions.
My life and direction changed completely once I started to think differently. I actually started defeating my obstacles instead of looking for who put them there. I now believe in myself and my ability to secure my own future, without relying on Washington or anyone else to put a rule in place that will protect me. What I learned is that there is hope and empowerment in realizing I do not have to accept your ideas and solutions.
With all of that said, I would like to respectfully say that we are hardly alike. Maybe you should re-examine which one of us is more "single-mindlessly focused", since you are the one that is in the box, and I am the one outside of it telling people there are more options where I am."
END
Lesson: Don't limit yourself by accepting what you think you can't do, go find out that you can do it!  What you believe, is what you achieve!!
Do you agree or disagree with me?  Let me know, and as I was with Dawn, please be respectful!  I would love to hear your opinion.