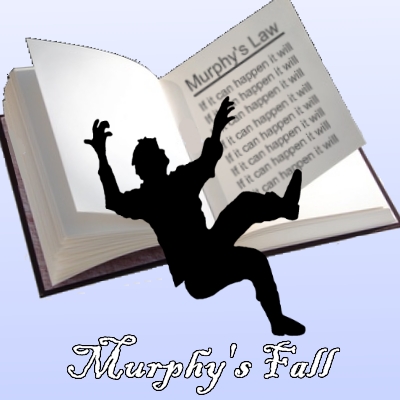 Murphy's Fall?
I wanted to take this opportunity to introduce you to something that you have or will possibly go through.  I have coined the term "Murphy's Fall".  Murphy's Fall isn't the fall of Murphy.  Instead it is something you yourself go through because of Murphy.  That's right.  It's what can happen when Murphy has moved in and just doesn't want to leave.  It could be equivalent to what marathoners call "The Wall", which is when a marathoner reaches the 20 mile mark and starts to rationalize giving up.  It's when you start to tell yourself that you have already made more progress than most people, so quitting isn't so bad.  You may be tired, frustrated, depleted, and your hope is at an all time low.  Frankly, you have fallen away from the hope and determination that you had when you first started your Total Money Makeover.
The HIGH!
I decided that it was time for me to write about this because for the past three and a half months I have experienced this symptom of not making any progress.  When we first started our Total Money Makeover (TMMO), we were excited, and we made great strides because of it.  We sold our car (saving us almost $500 between the car payment, high insurance costs, and property taxes), and paid off almost $5,000 in credit card debt, and old medical bills.  This left us with $5,000 until we would be debt free except for our house—or so we thought.  We also managed to save $2,000 for our Emergency Fund. (Savings for the first time EVER!) EXCITING STUFF!!  I was PUMPED! Then Murphy decided that we were just too happy, and that it was time he paid us a visit.  This would be Murphy's first visit since we began our TMMO.
The LOW!
First we received a letter in the mail, letting us know that we owed an additional $4,000 from a student loan on top of the $5,000 in other student loans.  A $4,000 jump all because we forgot about that particular loan.  Next we had car trouble, some more car trouble, and yet a third round of car trouble.  Throw in having to adjust to my wife having a new schedule as a Registered Nurse, and then me being forced to take time off at my job to be with Isaac until we figured something out.  My wife went to nights, I went to days, and everything was taken care of.  Or so we thought.  After about 6 weeks, Alana was told with absolutely NO notice at all, that she would be moving to days.  Now we needed to make some different arrangements.  Child care was unavoidable.  Still I was forced to take off some more time from work until we were able to find daycare quick and in a hurry.  Wait, I'm not done! Next I get a hernia from freaking coughing, and am out of work for 3 weeks.  "We have done so much more than most people!" This started to creep into my thoughts periodically until it was eventually considered rational thought.
The FALL!
In short, with all that going on, I have been really frustrated.  We have made little progress since the video that I made.  I am constantly thinking about how we are not paying any of our debt snowball down.  We still owe $9,000 and we were supposed to be out of debt except for the house by September or October at the latest.  I am coordinating a Financial Peace University class, and I am struggling with trying to remain positive and excited for the class members sake.  It has been hard.  The truth is, it's not that I have lost faith in our Total Money Makeover.  NOT AT ALL!  I have lost faith in myself!  I have let Murphy take me down, and my hope came tumbling down with it.  Things seemed to reach an all time low.  But has it really?
The ANSWER!
How can I truly be at an all time low?  I can't or maybe it's better to say that I shouldn't be.  Here's why. In less than a year we have cut up and paid off ALL of our credit cards, eliminated a car debt (saving us $8,500), managed to save $2,000 in our Emergency Fund, and with all of that doom and gloom above we have still been able to make it without borrowing any money at all.  The absolute truth is that we have not even had a hard time making it through all this.  Our bills have been paid extremely early compared to how we were living last year at this time.  In fact, our mortgage is usually paid before the first of the month.  So I must ask myself this:  Why am I crying and most importantly why have I felt defeated?
I have felt this way because I have been thinking about the wrong stuff.  Instead of thinking about the good, I have been analyzing the bad.  Successful people are solution oriented, and they rarely think about the past.  That is why it is called the past because it is gone, and you can't do anything about it.  I should have been looking at how easily we were able to find solutions that did not include borrowing money or not paying our bills. Had I been looking at it differently, I would have been getting hope and encouragement from our new found financial responsibility.  I realized something all over again.  WE ARE NOT LIVING PAYCHECK TO PAYCHECK ANY MORE! That is something to be celebrating, not something to be depressed about!  We have a plan, and it IS working.
My Message To YOU!
Please don't let Murphy get the best of you!  You are still winning if you still have a plan.  As long as you do not have to go backwards you will always be in better shape than you were before!  Go FORWARD!  Think POSITIVE! As long as you remind yourself of how far you have come, and avoid thinking about how things have not gone exactly like planned, you will be okay.  One thing that I am sure of is that plans often take unexpected turns along the way.  The key is to adjust and continue to follow the road in the direction of your goals.  Don't let "Murphy's Fall" get the best of you!  You are going to win, that I am sure of!
GOOD LUCK!
Have you experienced Murphy's Fall?  Share your story in the comments section.