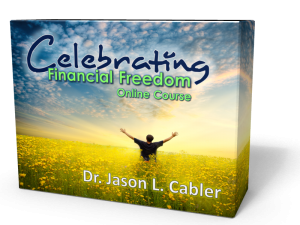 If you've been following my posts here on EOD for a while now, you may know that I offer a popular Christian get out of debt course that I've taught at various venues over the years.
The course has always been offered in a physical version with a workbook and CD's.
I've been asked many times if I have the course available in an online format, and I've always had to say "no".
But not anymore.
You Can Win Access to the Course for Free!  (Continue Reading)
You Asked, I'm Making it Happen
Over the last few months, I've been working tirelessly to convert the course material to web friendly format, shoot videos, create slides, and get everything working together well.
The production work is completely finished, and the course is ready to roll.
Now it's finally time to launch this sucker!
Be The First In Line on Launch Day!
I'll be launching the "Celebrating Financial Freedom" online course to the world on December 26, 2013, and you can be one of the first in line to have access to this life changing get out of debt course by joining the hundreds who have already signed up for the VIP mailing list.
When you join the list, you'll also receive access to a special offer just for VIP's (More about that in just a minute).
What's the Course All About?
The Celebrating Financial Freedom is a Christian based get out of debt course focusing on 5 things:
How You're Manipulated to Get Into Debt–  Marketing has convinced us that debt is just a part of life.  I'll show you why that's false and how being in debt affects your freedom, your happiness, and your future.
The Spiritual Side of Money–  How your beliefs about money and debt affects every aspect of your life, and how those beliefs can enhance or take away from your spiritual walk.
How to Get Out of Debt–  The Simple 5 step process that will lead you step by step to debt freedom and keep you in permanent financial prosperity.
How to Get On The Same Page With Your Spouse Financially-  You really can end disagreements about family finances.  I'll show you how to work together and learn to understand how your spouse thinks about money using common sense and biblical principles.
How Handling Your Money Well Changes Not Just Your Family, But The Rest of the World Too-  Your actions have widespread, long lasting effects.  Sometimes they will change the world in ways you would never expect!
Find Out More
You can find out even more details about the course by joining the hundreds who have already signed up to receive more info and be notified when the course launches.
The emails are actually a mini course that touches on the material you'll find in the Celebrating Financial Freedom course itself.  You'll find out all the details you need to decide if the course is for you.
Of course, there is no obligation to buy anything, and you can unsubscribe at any time.
Get an Awesome Discount
Best of all, when you sign up for this VIP email list, you will receive a  coupon code on launch day that will snag you a $30 discount off the price of the course.
Only people who are on the VIP list will get this coupon code.
So if you're even just a little interested in the course, you should sign up for the email list now just in case so you can learn more about it.  You don't want to miss out on the VIP discount.
Worst case, you decide the course is not for you and you unsubscribe.  No big deal.
Get In Now For The Best Deal
One unique feature of the Celebrating Financial Freedom online course is that when you purchase the course at launch time, you get lifetime access to the course material.
Obviously, that's a good thing.
But what makes it even better is that, over time, I will be adding more material to the course, but you will never have to pay another penny.  So as more course material is added, your lifetime access becomes a better value as time goes on.
As I said, the only way to get the special VIP coupon code when the course launches in just a few weeks is to join hundreds of others and sign up for the VIP email list.
Let's Give Away a Couple of Courses!
Ok, so let's give a couple of these courses away!
Here's how to win:
 Just leave a comment below and tell me how your life would change if you got out of debt using this course.
Send a tweet telling others about the course that includes my Twitter handle @DrCabler and the link to this post [ http://bit.ly/19wViMp ] to tell others about the course.  Remember to be creative!
Here's an example you can cut & paste if you like:  The new Celebrating Financial Freedom course by #DrCabler is the bomb! He's giving two away here: http://bit.ly/19wViMp
I'll pick one winner from the best comment in the comment entries, and I'll pick a winner at random from the Tweets.
Feel free to share this post on Facebook, Pinterest, and others using the "Share the Wealth" buttons below (However, these will not gain entry into the giveaway)