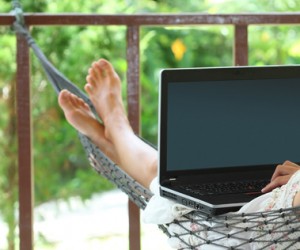 Need to make some extra money?  Whether you need money to meet a savings goal, pay off some debt, or just make ends meet in tough times, freelancing is an excellent way to make money using skills you already have.
What is Freelancing
So what is freelancing?
Freelancing is simply hiring out your skills for use outside of your normal job.
Once upon a time (in the prehistoric days before the internet) it could be much harder to make money freelancing because there were only so many people you could connect with who needed your skills and knew you were available.
But in this incredible era of high speed internet and WiFi,  You can make your skills available to anyone on the planet with an internet connection.
That's literally BILLIONS of people!
It's especially easy to find freelance work if your skills involve working on a computer or over the internet.  That could include skills like marketing, interior design, accounting, software development, transcribing, general office work, translation, IT, website building writing, , and tons more.
How to Start Freelancing
It only takes a few minutes to fill out a profile on sites such as Elance, Freelancer,  or Guru, among others, then start bidding on any available jobs you find interesting.
Potential clients can also find you by searching for specific skills listed in your profile and can check out projects that you've finished for others.  The sites also have excellent tools for tracking the progress of your projects for your client to see, and guaranteed payment once the project is complete.
Once you finish each job, the clients will rate your work.  The better job you do for your clients, the better reputation you build, resulting in more work for you.
However, if your skills are confined to a more local service area such as a landscaping, plumber, general maintenance, electrician, auto repair, child care, etc., you can still freelance your skills by advertising on sites such as Craigslist.
Craigslist has "Gigs" and "Jobs" sections where you can advertise your areas of expertise to anyone in your local area needing your services.
Of course it's free, and if you take the time to write a great description that makes you stick out from the crowd by listing qualifications, testimonials, references, and photos from completed jobs, you can easily make a steady side income to use for paying down debt, savings or other financial goals.
The Golden Age of Freelancing
I am thoroughly convinced there has never been a better time in the history of the world to find ways to make money.  When you have the ability to hire yourself out to literally anyone else in the world, it's so much easier to make that extra income you need.
That doesn't mean it'll be easy. It will take some work to fill out several profiles and find projects, but it's still so much easier than it was before these sites were available.
So if you're ready to hustle, you just might be surprised at how much extra money you can make freelancing!
Have you ever made any money freelancing?  Leave a comment, I'd love to hear about it.
Resources:
Relentless People Get What They Want
How Do You Get Out of Debt (Part 1)- Get Mad and Naked
5 Ways to Make Extra Money In a Tough Economy
Another 5 Ways to Make Extra Money In a Tough Economy