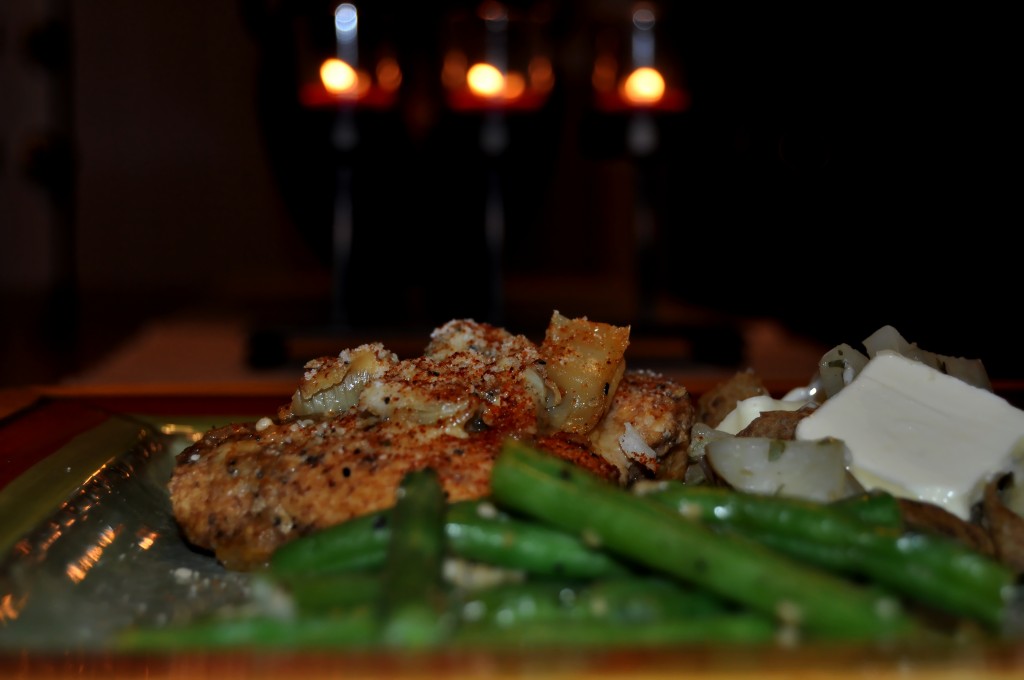 Photo Credit: Yours Truly
It was really fun reading the reactions from people related to this challenge. (responses on other blogs listed below) Until I started reading them I never really considered what I was proposing to be extreme, but apparently it is the equivalent of dangling your child over a balcony.
Some adamantly opposed the idea right away, while others admitted it was something they would like to do, but just couldn't. The rest said let's do it! That's what I'm talking about baby!
I left a comment on Budgets Are Sexy suggesting that to those who said it was impossible, it's not that it's impossible, it's just that they weren't willing to do what it would take to make it possible. If you think about it that is a common theme for people in personal finance. You will do what you are willing to do when you're willing to do it. Just because you don't want to doesn't make it impossible though.
Here are the articles that shared my No Restaurants in November Challenge with their readers. Be sure to read the comments to see how weird I am. I like being financially weird. 😉
Budgets Are Sexy – My homeboy — the one and only — J Money! (Check J$ out on Currency, and look at this awesomeness at Love Drop!)
Living up to a name – This blogger is doing a challenge of his own, (a spending fast) but recaps my post, among J Money's, and shares a few of her own ideas as well.
Lauren & Elissa – This blog is a new find for me. Two financial planners that decided to put what they like to call "extreme financial planning" to the test. I've been called extreme many times so this is right up my alley. (Check Lauren out on Currency!)
Week One Update!
November 1st — November 7th
Okay so week one was a complete success! No eating out. No convenient stores. No Starbucks. No eating at work. DONE!
How much did we spend buying groceries from the grocery store? $134.14 I am VERY okay with that number — since when we aren't shoveling down expensive restaurant food — we try to keep the food budget right around $125 per week. If you're feeding a family of four, some frugal shoppers say you should strive for $100 per person. We raised that to $125 per family member because on average, we were always short about $25 on grocery money each week.
Then we would go out and bust our budget by eating out…I know! It makes absolutely no sense at all!
I HATE busting the budget, and it bothered me each time we did it. Maybe now you can understand why I would take what some consider extreme measures to stop this nonsense in its tracks. If you still don't understand, wait until you see my "October Confession" below.
Please know that I do not wish to intentionally embarrass myself by giving you these real figures. Sure, I may be a little embarrassed, but what's more important to me is that my shame compels you to keep your situation under control. In other words, don't do what I did, and if you do, try my challenge. It's free, and you may learn something about yourself.
If you're reading this and you can relate, perhaps making the same drastic decision would be a good thing. If you didn't do as bad as we did, but you feel you could do better, taking my challenge is still a great idea, even if only for a month. For the rest of you, I hope that you could at least give one week a try, just to see how much you can save in the process. What you think is impossible now, could become possible if you had some motivation. 🙂
Now for the juicy stuff!
My October Confession
Now you'll see the crux of my inspiration for doing this November challenge. October really made us see why something needed to happen and NOW!
Are you sitting down? Haha! 😉
We spent a whopping $1,052.11 last month on everything food. HOLY COW!
Now before you shat yourself (please excuse my explosive terminology, but I'm trying to make a point.) like I did when adding this stuff up, keep in mind that some of this total includes diapers, wipes, dog food, detergent, toiletries, cleaners, and cosmetic type stuff.
It also includes groceries that we still have in our pantry and freezer because we like to buy in bulk when it makes sense to, and meat is expensive. Oh and we picked some fresh apples at a local orchard for $11.29. Over the edge I know!
Let's break down what was spent and where shall we?
I've got this listed in 4 categories.
Groceries – $554.89
Restaurants – $458.25
Convenience Stores – 29.95
Wife's Work – $9.02
We ate out a total of 18 times in October with an average ticket of $25.46.
As you can see convenience stores (which includes coffee), and my wife eating at work is not the problem at all. To give credit where credit is due, my wife chooses to use her monthly "My Fund" of $50 to buy her coffee….mostly. For the record, my wonderful wife has decided not to use that "My Fund" money to buy coffee. This month, it's considered off limits.
Our problem has more to do with the first two numbers. You'd think that by eating out so much we would have spent way less at the grocery store. In October we blew our grocery budget AND eating out budget to smithereens.
November we will see exactly what we are capable of doing when we put our mind to it! Back to basics! Sometimes your habits just need to be rebooted or reprogrammed to allow yourself to reach your financial goals more easily. That's what this is about for us.
Let's see where we are for the first week compared to last month.
Last month, the first week, we spent a total of $249.74 combined on all of our food related purchases. Compare that to our first week in November ($134.14), and you will see why we're smiling so big right now.We're on track.
See. 😀
We already saved $115.60! That's almost one whole week of grocery money. That could almost moderately feed a family of four for one week going by our normal grocery budget standards.
If I was to times that number by four, we would end up saving $462.40 at the end of the month. I know we will do better. Our goal is to save $552.11 and place that savings in our emergency fund with any extra we're already adding to it.
Will we do it? Be sure and come back to find out!
If you haven't already, please subscribe to my free updates so you don't miss a thing! RSS Feed or Email
So to all of you brave and "extreme" challengers who signed up for the No Restaurants in November Challenge; how was your first week? Were you successful? Did you fail? What challenges did you face and how did you (or didn't you) overcome those challenges?

Editor's Note: If you're business meals and eating out costs due to traveling with your company, it does not count against you in this challenge. If you are not paying for those meals, or are reimbursed, you can still take my challenge and succeed!
See you next week and good luck to you all! YOU CAN DO IT, DON'T GIVE UP!