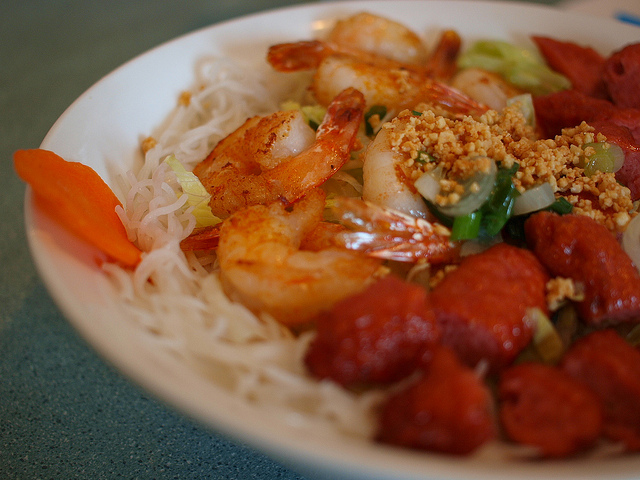 Photo Credit: Calvary Reviews
It's time for another Enemy of Debt Challenge!
Is your budget brutally pounded by your inability to stay away from restaurants? Ours is! Of all the things my wife and I have changed about our financial habits, dining out seems to be our current addiction of addictions. We did fine while we were jazzed and intense about getting out of debt, but ever since then, we have been haunted by this ghost of convenience.
Let me just say, right here right now, we are SICK AND TIRED of watching our money disappear into our belly. To make matters worse we are completely aware of how this is slowing down our financial progress. With our recent payoff of our second mortgage to the tune of about $7,000, which came from our emergency fund, this bad habit has our full attention.
We had a goal of saving $15,000 for our fully-funded emergency fund by the end of 2010. Needless to say, that goal has been changed and we need to get more serious about achieving it as fast as possible. I can't help but think about all the money we have wasted on restaurants since we became debt free. The thought is too nauseating to bare.
I would even go as far to say, had we tightened our budgeting belts in the food department, we'd probably still be on track to reach our $15,000 savings goal by 2011. (Even with our recent payoff!) That's why I am so fired up right now!
One small problem for me is that I manage another local blog where I do reviews called Inside Charlottesville. I review restaurants, entertainment, and pretty much anything awesome that can be done in Charlottesville VA. Thankfully, I can ask my trusted partner to handle any food reviews for the month of November. Furthermore, there are some places that I have eaten out at already that I can review to fill any gaps. Problem solved!
It's time for action and I want to challenge you too! Are you up for another Enemy of Debt challenge?
The No Restaurants in November Challenge
This challenge doesn't have to be about giving up dining out from here on out. It's simply a way to evaluate how much you are currently spending in the "dining out" department, and how much you can save by eliminating this expensive expense for an entire month.
I can tell you that this is going to be tough for us, but we have done it before. When we were getting out of debt we had MANY months of no eating out, but things have dramatically shifted as we have veered off course. It's time to regain control of our poor food habits in order to reach our goal as fast as we can!
The Rules of the Road

Eating out consists of buying any food from any place that could have been made at home.
In other words, everything you eat or drink will have to come from the grocery store — no exceptions!
No snack machines, or convenient store foods or snacks. (For us this would include Starbucks Coffee, because we can make coffee at home much cheaper.) This will be hard for my wife since she is the only coffee drinker in our house, but she is ready to make this sacrifice in order to win financially. (She is my hero!)
Specifically track your grocery spending on paper. (Record

EVERY

dollar spent on food.)
Save as much as you can! Track and record your savings each and every week! (also on paper)
Editor's Note: If your business meals and eating out costs are due to traveling with your company, it does not count against you in this challenge. If you are not paying for those meals, or are reimbursed, you can still take my challenge and succeed!
How much can you save for the month of November? FIND OUT!
Are there any prizes?
Yep, the money you save from taking my challenge will be your greatest prize 😀
Before you say NO to participating in this challenge ask yourself these questions:
I would love it if you joined me for this challenge! Please consider how taking this challenge could benefit you and your financial plan.
Are you willing to sacrifice one thing to improve your situation? If you want to join my No Restaurants in November Challenge, please leave a comment below indicating your desire to participate. I will be giving you a detailed update each and every week of our results!
Let's do this together!