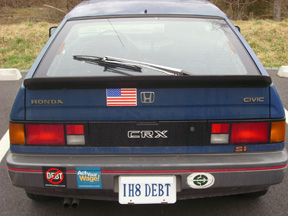 I have been blogging for over a year now but I can honestly say that I really didn't know blogging until I met J Money over at Budgets Are Sexy.  He is the first person I met blogging that I became friends with.  I admire his frugality and extreme dedication to saving and investing.  He is not even 30, yet he has more savings than the average person in their 50's.
We communicate back and forth quite frequently and have much respect for each other.  We have even been known to duke it out, in a friendly fun kind of way, on his blog as well as on other blogs.  The most recent one was here at Money Funk.  I sent J an email after one of our friendly duels, and he decided to turn it into a post to highlight the power of visualization.  Specifically the visualization of a life without debt.  Go check it out and see why we have so much fun!
I want to thank J Money for showing me some stuff I didn't know about blogging and helping me when I sometimes bugged him multiple times a day.  We had a brew together once but I hope we are able to share more.  Here's to great friends and cheers to the personal finance blog world that I love oh so much!  Thanks J!