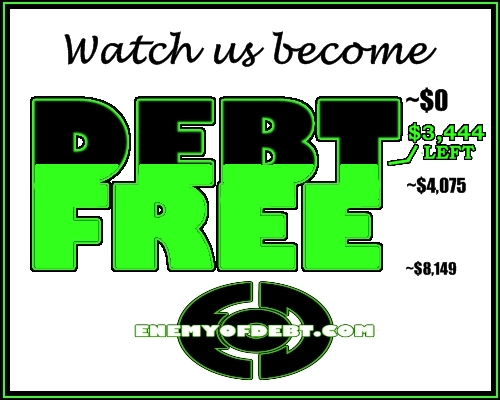 Watch us become debt free right here!
DEBT EVERYWHERE is on the run!
I posted a debt free progress chart about 3 months ago.  Here is the current updated chart.  When the green fills up the word "DEBT FREE", not only will we be free, but so will our green.  FREE to save, give, and invest without restraint.  Last week we were able to pay down our remaining student loan debt by $3500.  That was a huge win for us, and motivated us even more to knock the last little bit out.  $4649 is in the sights, and has no where to run to escape our wrath!
What does this mean for me?
Aside from no longer being trapped by the weight of bondage, in order to become a Certified Financial Counselor (via Dave Ramsey's Certification Program), we have to get out of debt first.  As soon as that happens I plan to launch EOD Financial so I can begin to help others on a professional level, get out of debt and gain control of their money.  This will also allow me to become an Endorsed Local Provider (ELP) on daveramsey.com.  That is HUGE!
I am very excited about getting the ball rolling for something I feel I was put here to do.  I enjoy helping others become debt free with such a passion, and I look forward to being able to help them find the hope they need to achieve true freedom!  It DOES exist and I am going to make it my job to prove it!
Celebration is in order!!
That goes for everyone too.  When you pay off debt celebrate it!  Tell everyone around you, and let them feel your excitement.  Your example as you progress through this debt free process says much more than just talking about it from time to time.  It says, "Not only am I doing it but it is WORKING, and freedom for me is right around the corner!!"
The BEST way to spread the debt free message is to become debt free yourself!  Now go eliminate some bondage and help others get the message!!
Remember that DEBT is NOT a tool to building wealth, but your freed up income IS!