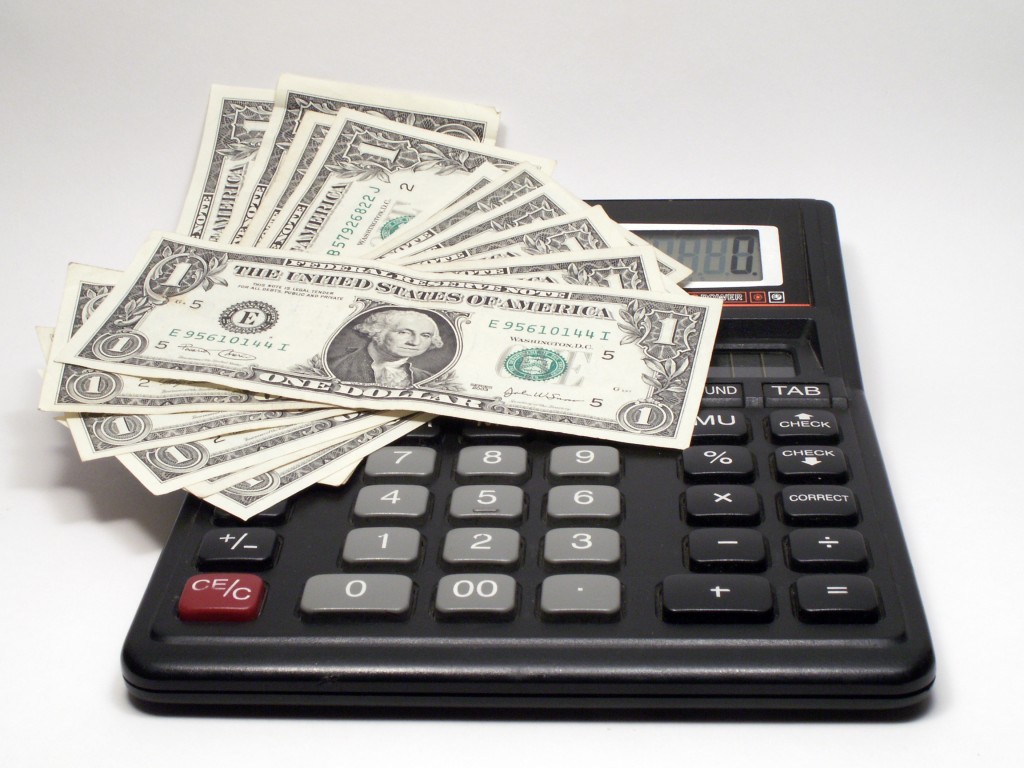 How many of you have a plan you consistently follow each month to pay off debt?
Based on my own experience (before my wife and I got our financial heads together), I'd guess that many of you do not. I know the drill. You pay off a little debt here and a little debt there but it's random and not based on any kind of written (or visual) plan. You make some progress and take a few steps forward but then suddenly find yourself taking a few more steps back.
Some of you may even be paying just the minimum payments thinking that eventually its got to get paid off. My wife and I have done that too.
None of that works in the long run. You need a plan!
The fact is that you are more likely to pay off your debt if you have a plan to guide you through the mud. Let's face it. We need to see and visualize what we're doing and how long it will take. If we say we want to pay off our debt but have no idea when it will happen, chances are we won't make much progress towards reaching that goal.
Today I want to introduce you to a way for you to organize your debt free plan.
The site is called SavvyMoney and it's designed to help you develop a plan and get out of debt.
So What is SavvyMoney?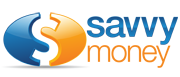 SavvyMoney is an online debt management tool where you develop a plan that helps you pay off your debt five times faster than if you were doing it yourself. It is a complete organizational tool that allows you to set payment goals, customize and compare different payment methods, track your progress, and if you're "gazelle intense" like me — it provides a way for you to accelerate your plan.
From what I've seen so far it is the complete package but one thing that I absolutely love is that it has the debt snowball as an option. You can compare a debt stacking plan (which targets highest interest rate) with a debt snowball (which targets smallest balance) payoff plan to see which one you like better.
Another thing I like is that instead of lowering the amount you pay towards your debt (as your minimum payments are reduced), SavvyMoney encourages you to keep paying what you were paying from day one until your debt is paid off. No need to play the psychological game creditors hope you'll play so you end up paying them tons more interest.
I'm not being paid to recommend this awesome service to you either. The folks at Savvy Money have the same passion for helping you become debt free as I do and they were kind enough to let me try out this service for a few months so I could evaluate it and share my thoughts with you.
The rest is up to you.
How Much Debt Can I Pay Off in 6 Months?
Yeah — you're right, I'm already debt free so what do I mean?
Since I will be trying out the service I thought it would be fun to simulate a debt free plan that shows you real numbers. I will be using real life scenarios that are consistent with what my wife and I were dealing with when we started our journey.
So just like in 2007 "we decided" that we are sick and tired of debt controlling our lives so we made it our New Years Resolution to get serious about eliminating our debt in 2012. January 1st was the first day of this journey and so we're already one month in. Please assume that we've already saved our emergency fund of at least $1,000 to prepare us for radical debt elimination. 😀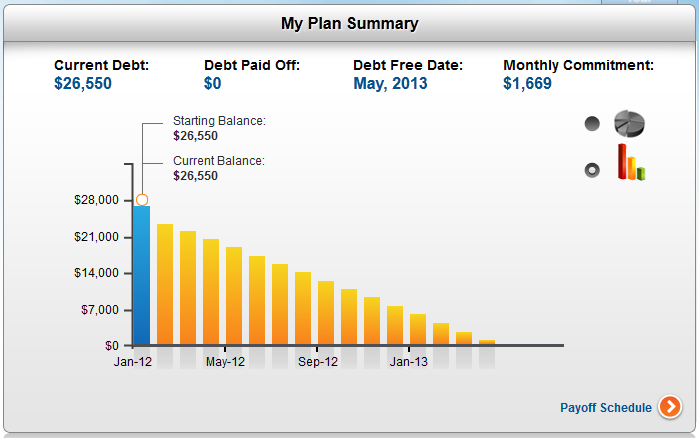 This is a snapshot of us at the starting line. We have $26,550 (11 accounts) in debt and we're MAD AS HELL! Our minimum monthly payments equal $669 and we have committed to paying an extra $1,000 every month when possible towards our debt. When we first started our journey we both worked and had approximately that much extra to pay off debt each month. I will be using real life scenarios to make that number go up and down each month depending on different circumstances. In fact, just like back in 2008, we're going to be super weird and sell our $8,000 car eliminating a $300 payment right away. Get ready to relive our intensity for debt elimination all over again!
**The image below shows 26,201 in total debt but only because I was messing around with the "record payment" feature and forgot to change it back before taking this screen shot. 😀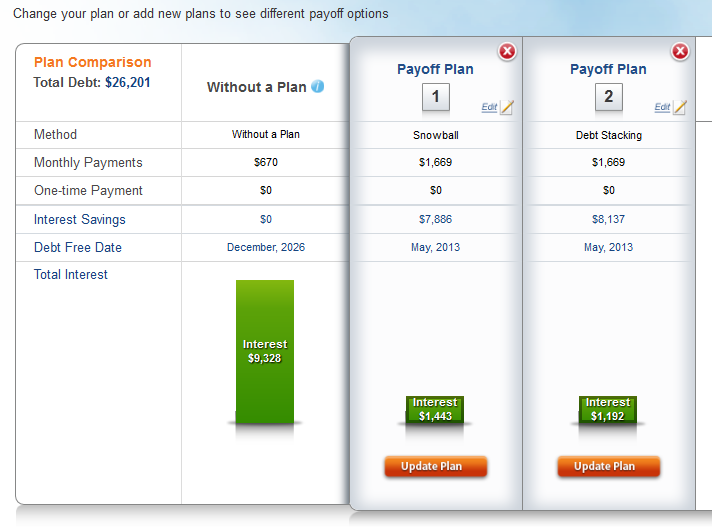 This is a comparison of no plan, the debt snowball, and the debt stacking plans. I will be choosing the debt snowball method and I want you to pay close attention to the difference in interest paid using the three methods as well as the pay off dates.
Using no plan at all making ONLY our minimum payments AND without adding a single dollar more of debt to our name, we'll be in debt until December 2026. By using a plan, at best we'll save $8136 in interest payments! That's a long time and and a lot of money but for most of us it would be much worse since the debt cycle usually has us adding to our debt. That was definitely my wife and I prior to 2008!
The debt snowball has us getting out of debt in May of 2013 which sounds super awesome to me and we also save $7886 in interest payments. We're getting out of debt more than 13 years earlier using the debt snowball method as opposed to the debt cycle method of stress, frustration, and a mailbox full of minimum payments. Gazelle intensity is looking pretty good don't you think?
The debt stacking method has us getting out of debt the same month as the debt snowball (May 2013) but we would save $251 more in interest with this plan. This method would save us $8137 in interest and we'd get out of debt by May of 2013. (same as debt snowball)
As you can see the debt snowball and debt stacking methods are very similar. You may be wondering why I would choose to go with the debt snowball method since it would cause me to have to pay $251 more in interest.
To me it boils down to Motivation Versus Mathematics.
Debt Snowball = Motivation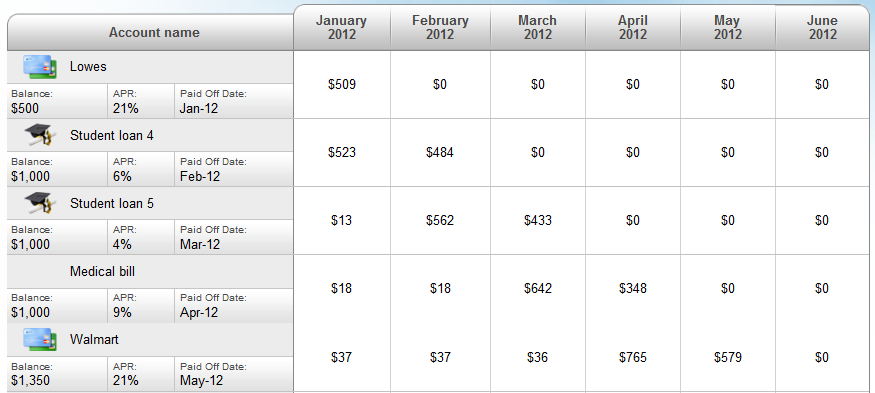 The debt snowball prioritizes our debt from smallest to largest. Many people argue that paying off the highest interest rate debt first is the smartest because you pay less in interest. They do have a point but they're not taking one very important factor into account. MOTIVATION. Not to mention that we're only paying $251 more using this method over the debt stacking method.
Looking at the above chart you can see that in 6 months (if everything goes according to plan) we will have annihilated 6 out of 11 debt accounts — three of which have the highest interest rates on the list. (your results will vary depending on your interest rate)
The motivation you receive from eliminating half of your individual debt accounts is EXTREMELY SATISFYING!! There is absolutely nothing like looking down at your debt list and seeing 6 debts crossed off that fast!
I think it is essential to stay motivated especially in the beginning when you're likely dealing with the behavior changes and the lifestyle adjustment that come with your new plan. If you lose motivation in the beginning you're more likely to attach failure to that plan which could keep you from getting back on the wagon once you fall off.
To me motivation is worth $251 and debt freedom!
Bottomline:
Debt Free May 2013
Difference in interest paid: -$251
Start your 7-Day FREE TRIAL and get 20% off subscription!
Debt Stacking = Mathematics

Debt stacking prioritizes our debt by paying off the highest interest rates first. This is not a bad plan at all but if you look you'll see that it takes you 4 months to pay off your very first debt. This is a critical time period in your new lifestyle and though it may not seem like much, MOTIVATION IS EVERYTHING! Keep in mind you'll only save more in interest if you stay motivated and stick to your plan!
Bottomline:
Debt Free May 2013
Difference in interest saved: +$251
Start your 7-Day FREE TRIAL and get 20% off subscription!
How Do They Compare?
Ultimately I say go with the one you feel most comfortable with. That's why they call it personal finance and what motivates me might be different from what motivates you. You will become debt free on the same month of the same year but maybe that $251 is what motivates you more. So pick one and GO FOR IT!
The important thing is that you get out of debt!
From what I've seen and experienced so far, SavvyMoney provides a very valuable service to help you get out of debt. I highly recommend starting the 7-day free trial to see how they can help you. Follow SavvyMoneycom. Be sure to follow @SavvyMoneyTip on twitter because you could win $100 for retweeting a money tip!
If you decide to try the 7-day free trial and want to continue using SavvyMoney, you will get 20% off your monthly subscription of $14.95. So for what it would cost to visit Starbucks a couple of times (Discount price comes to $11.95) you can have access to this great financial tool, save thousands of dollars in interest, and ultimately get out of debt sooner.

That's a great investment and I wish it were available when my wife and I were paying off debt!

**IMPORTANT NOTE: If you signed up for the free trial prior to 2-3-12, please contact me if you choose to extend your subscription past the trial so I can make sure you get your 20% off.  The discount link was not yet set up prior to that date. Thanks!
Stay tuned each month to see my results based on real life circumstances! Good luck!