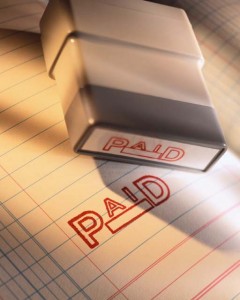 Are you ready to pay off debt in 2010? If it is not one of your New Years resolutions, then you should take this opportunity to make it one now. Debt is not your friend, and if you are one of the many people out there that carry a balance from month to month, then you know what I am talking about.
Get rid of it! Get rid of the financial roadblock that is keeping you from experiencing financial peace. Being broke is no fun. Living paycheck to paycheck is stressful, so now it is time to make the changes necessary. You cannot just sit back and watch from a distance, it requires immediate and purposeful action. You have to want better for yourself and your family.
I have helped many people set up a budget, in most cases, the first budget ever. One of the things I ALWAYS hear is "I don't have any extra money at the end of the month." In some cases this is true but most of them learn that they really did all along, which is why doing a budget is just like getting a raise.
The other thing people often do is limit themselves by not realizing that there is more out there than just there day job. There are other ways to make additional money to save, pay off debt, and improve your financial situation. You just have to keep an open mind and be willing to think outside of the box. Your comfort zone is not doing you any favors.
Before you start paying your debt off there are some things you need to do first.
Stop borrowing more money.
Get on a budget.
You are ready to pay off debt! Now what?
Now you are ready to start using the Debt Snowball method. Basically, you take ALL of your disposable income and use it to pay off your lowest debt first. (Rinse and repeat)
Now for those of you who are looking for ways to increase your debt snowball above what your current income can accomplish, I have some possible solutions. These are ways that I AM experienced in using, so I know they work.
Pizza Delivery -My buddy Jeff,  over at Deliver Away Debt, can vouch for this being an excellent source of additional income—as can I. He makes approximately an extra $1,500 a month, give or take. He works an extra 22 hours a week aside from his first job to do this. Kudos to Jeff for being so committed to delivering away his debt!
For those of you who like math that is potentially $18,000 of debt that will be paid off in one year—NOT including extra money from Jeff's day job.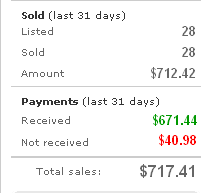 Ebay –There is LOTS and LOTS of money to be made on Ebay! My wife is really great at doing it too. She is the real mastermind behind this not me. As I have stated before, she buys things at yard sales, thrift stores, and auctions, and sells them on craigslist and Ebay. This takes some work, but if you are willing to do a little research before purchasing goods, you can do it too.
In the last 31 days my wife made an EXTRA $717.41! Minus the cost of these items and you have some real potential at making some good money.
Do It Yourself Side Jobs – No one is stopping you from providing a service to someone who needs it. Well OK, maybe you are stopping you, but I am here to tell you to GET OUT OF THE WAY! You don't have to go out and apply for a job to provide someone something of value.
Are you good at something? Do you knit, crochet, paint, draw, design websites, teach music, make crafts, or provide services such as day care, pet sitting, leaf removal, lawn care, house sitting, maid services etc.?
Want to know what I do? I design graphics and logos for websites. My new blog is Logos4You.Net and it shows some real potential for making lots of extra money. I just started this so I do not have any numbers to crunch for you just yet but I assure you, I am already making money. You can too!
Now go increase your debt snowball and pay off the debt in your life once and for all! It's something you will be so glad that you did.
Good Luck!