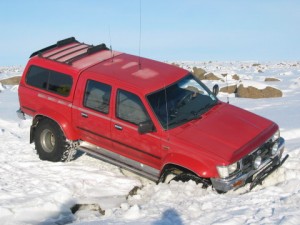 Do You Justify Your Purchases? What About The Bad Ones?
A few weeks ago, I was sitting at home watching some T.V. with my wife, after watching 27 inches of snow fall. We were snowed in the day before, and could barely get around on day 2. It was the top of the hour so there was a news update, and that's when I heard it. I almost couldn't believe my ears but my wife confirmed what I thought I heard.
We watched a news report that stated people were considering an upgrade to a 4WD vehicle—due to the recent winter storm.
My jaw dropped to the floor in disbelief, but then it occurred to me that this is not so uncommon. The reason I was so awe struck by this news bulletin was because I live in Charlottesville, VA—not Upper Michigan. This was the first "significant" snowfall the area has seen in nearly 8 years. So why then would people use this unique instance to justify buying something they really don't need—they just want?
Justifying a purchase by declaring a want to really be a need, is hardly justification at all. It's a lie. I have definitely lied to myself over the years, but no longer.
We are so eager to find a reason to "need" something that the first chance we get we throw ourselves at it. People wanting to buy a 4WD vehicle in Charlottesville just because of one snow storm that rarely happens—is irrational. It's just an excuse to go out and buy something. Let's be honest. I've done it, and so have you.
Our behaviors with money keep us from having what's really important. It amazes me that people are willing to go into debt to buy a vehicle that will "only possibly" keep them from getting stuck—the one time it does snow, but they can ignore the fact that they do not have an emergency fund.
There are countless reasons to be prepared for financial hardship, but you do not hear people flipping out, saying things like, "I don't have an emergency fund, maybe I should save one so I can be prepared for the next slumping economy?" Nope, you don't hear people saying that do you? Why not though?
YOU NEED AN EMERGENCY FUND WAY MORE than you need a 4WD! A big screen T.V.!  A boat! That vacation! Those credit cards! There are a lot of things you need more than those things. For starters, you need to be prepared.
How much better would your financial situation be if you justified saving yourself an emergency fund? How about if you justified paying off your debt? If you would have been as enthusiastic about building a secure future for your family, as you were about using debt "as a tool"—how oblivious would you be to this recession? How much better off would you be right now? I think we all know the answer to that.
We refused to take part in the recession, by preparing for "it".
I am not trying to imply that you wouldn't be affected at all, but I AM saying your life would be a LOT less stressful right now. It wouldn't be a crisis. If you had an emergency fund with at least $10,000 in it, what you'd have is more time to make better, more informed decisions instead of rushing because you need money yesterday. As I stated in this interview with @ClariFinancial, "crisis living is no way to live."
I've got news for you. Crisis-living gives you the disadvantage.
If you stop looking for excuses to spend your money, you will have more of it to spend. You can avoid a potential crisis, by understanding that saving money for your future is not going to keep you from enjoying life, it will instead give you a life to enjoy. It's hard to enjoy life when you owe people money, because they will ask for it back. Get rid of those people by not borrowing their money. That's when the ball will be in your court.
Make Different Excuses
I have an exercise for you to do.
If you're going to make excuses, you should at least be making the right ones. So here's what you do. Take out a piece of paper and write down EMERGENCY FUND at the top. Turn having an emergency fund into a need, as opposed to what it is now—a want. Do just like you do when you justify a purchase. Write down all the reasons you have to start saving for an emergency fund. Talk yourself into saving money. Can you do that? Umm…you NEED to!
Already have an emergency fund? Do the same exercise by justifying why you should pay off debt. I bet you can come up with a lot of reasons to start now. If not, let me know and I will help you. 😉