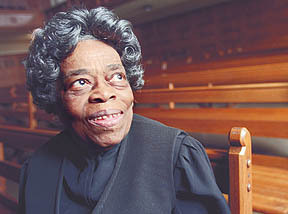 So many people are intimidated by the concept of managing their money. It almost seems as if the very idea that we can be in control of our money is just a made up fairytale that only a few get lucky enough to take advantage of. Many believe that wealth is out of their reach and only something the top money earners get to experience. The myth is that you have to earn a lot to build wealth.
I would like to introduce you to a woman who rejected that notion. Her name is Oseola McCarty, and she is a real inspiration! You see, Oseola didn't earn her living as a doctor, a lawyer, or even a teacher, although her example can teach us much. She was just a hard working African-American woman with a sixth grade education, who happened to make a living washing and ironing other people's clothes, a profession that she did for about 75 years until her arthritis forced her to retire. (at the age of 86 years old!!)
The advantage that Oseola had over society today, was that she was taught and believed greatly not only in herself, but also in the tremendous benefit in saving money. She started making only $1.50-$2.00 a bundle, but sometime after the war, because of inflation she charged $10 a bundle. The point is that she just started saving with no excuse in the world concerning how little she made. In her own words:
"I put it in savings. I never would take any of it out. I just put it in. It just accumulated."
Here's where the story gets better, and by better, I mean absolutely inspiring!! By the time her arthritis forced her to retire she started speaking with her bank about the importance of where she wanted her savings to go when she passed away. The trust officer of her bank brought over 10 dimes, to represent percentages, and asked her to divide up the dimes according to where she wanted her money to go.
Oseola McCarty, in July 1995, had saved $280,000, by saving what she earned washing and ironing clothes!

She gave her church 10%, divided 30% between relatives, and gave an astonishing 60% ($150,000) to Southern Mississippi!! This just goes to show that people who build wealth often have generous plans for what they will do with that wealth. Some people may be greedy, selfish, money hoarding losers, but most give very generously when the time comes to do so. Her sole intention was to help give deserving students in need, a way to get the education that she never received.
Ladies and gentlemen, this is the kind of role model our children need. Not somebody with athletic ability and talent, not musicians, but a woman like Oseola McCarty, who proves that it's not about how much you make, it's about what you do with what you make that counts. Are you managing what you make as best you can, or are you constantly complaining about the fact that you don't think you make enough to save?
Oseola had what most would consider a very poor income. It's probably safe to say that she made much less than what's considered to be poverty level. She made better decisions with her money than most people are making today, which would include those with great incomes and those with poor incomes. She died at the age of 91 from cancer, and was never a financial burden to anyone. If anything you could say she blessed those students that would benefit from her many years of hard work. I just hope that any of the students that were deemed deserving, realized what it took for a poor woman with no education to make that happen for them. She is proof that you don't have to be a millionaire, or have a high paying salary to make an impact on others!
Here's how Oseola McCarty managed to save an unbelievable amount of money, and to give so much of it away. It's so simple a child can understand it!
THE BASICS
She lived beneath her means!
She saved money until she could buy something outright!
She avoided paying interest!
She saved for the future!
She invested over time!
She worked hard at something she enjoyed!
Something Oseola NEVER did, was own a single credit card her entire life! No matter where you are in life right now, you would be wise to take note of this wonderful example. Not only in her financial success, but also in her humility and wisdom. Oseola was the kind of human being that I strive to be! What examples and role models are you holding up for your children? Are they anything like Oseola McCarty? Better yet, are you anything like Oseola McCarty?
Even if you're not, and may have a long way to go, it's not too late to turn your life and your habits around. Let this post, and the life of Oseola inspire you to push yourself a little harder at doing what you know you should be doing anyway! Personal finance is not something to be scared of, it's something you should embrace as if your life depended on it, because guess what—IT DOES!!
Oseola McCarty, this post is dedicated to your loving life and memory!
Additional Resources:

Enjoy Your Money! How to make it, save it, invest it, and give it – J. Steve Miller
Simple Wisdom for Rich Living – Oseola McCarty