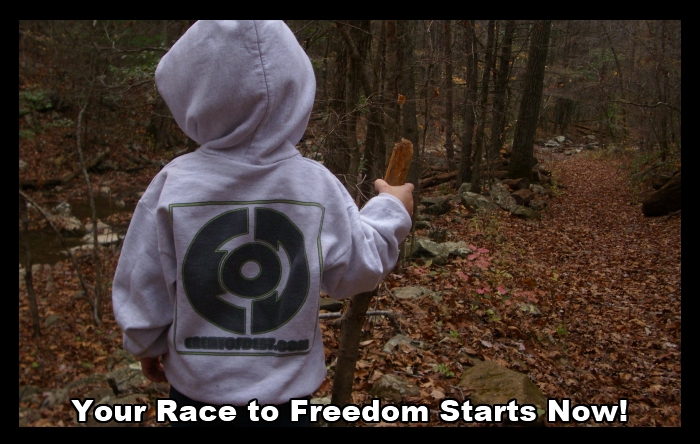 Do you want to know what motivated us the most when we decided to become debt free?
Forget about the BIGGEST motivation — the freedom part of becoming debt free. That alone will not get you out of debt. If it did, way more people would be living the debt free life. It's because the goal is too long term for most people, and we are not motivated by what one, two, or even 10 years might be like. We need to see results and fast!
Our biggest motivator, and something that kept us going, was our ability to make extra money without obtaining a second job. It started with selling our own stuff, but it became so much more once we got rid of everything we could. I'll get to that in a minute. This is the part people have the hardest time with and don't for one second think it was any easier for us. We struggled from Stuff Attachment Disorder too!
It came down to this. We knew we wanted to be debt free, but we also enjoyed our stuff — most of which happened to be the very reason we were in debt in the first place. We went crazy! People were like, "WHAT ARE YOU DOING?"

When we said we were going to sell our 2004 Pontiac Vibe, a great car and one we liked, chins hit the floor!
When I said I was going to sell by XBOX 360 AND our big screen television, chins hit the floor!
People just didn't understand why we would intentionally sell a good reliable car, in order to buy an older, but paid for car. When I pulled my new used $500 '86 Honda CRX into the parking lot, chins hit the floor. We didn't care, we wanted to be out of debt! The Pontiac wasn't just a burden, it was a curse. Selling it gave us about $300+ a month extra to save and then pay off debt. What would you do?
That started a selling frenzy too. We started selling everything!
The biggest thing to remember is that it doesn't have to be forever. It's not how you are going to live for the rest of your life. It's just how you're going to live now, so that you can hurry up and pay off your debt. It's a sacrifice worth making!
As you know, I've been doing P90X. In the Beachbody logo, there are three words that I think perfectly sum up what you must do.
DECIDE, COMMIT, SUCCEED!
as opposed to…
Don't Decide, Don't Commit, Don't Succeed!
The choice is YOURS to make…
Your March Challenge
Sell your stuff and have a yard sale on April 2nd!
The money you make from selling your stuff, will all go towards paying off your debt. Every single penny! No pizza delivery, take-out, or movie nights! 😀 Make sure you keep track of every sale no matter where you sold it to get credit for all sales.
My wife and I have come up with a system to maximize our returns.
The order of operation went like this, but everything starts in YOUR house with YOUR stuff.
Ebay – This was always the first place we'd look to sell. You can generally get more money for the small stuff.(IF you're in the US or Canada, confine your shipping to US and Canada only. Tracking is not available for shipping packages overseas, and we had trouble verifying if someone really received a package.)
Craigslist – This is where we put everything that was too heavy or bulky to ship. Stuff like furniture, vehicles (where we sold our Vibe), toys, etc.
Consignment Sale – My wife has done about five or six of these. Usually these sales are the perfect opportunity to get rid of extra clothing for a pretty good price.
Yard Sale – This is where everything that either couldn't be sold, or didn't sell, from the methods listed above would go — the yard sale pile. Yard sales are great for squeezing the very last drop of money from your stuff. At yard sales people are looking for bargains, and if you do not give them bargains, they will leave. There is still lots of money to be made here though.
Goodwill – Everything that didn't sell from the yard sale would get donated to Goodwill. Let it go!
You won't believe how liberating this entire process is!
Once we sold all of our stuff the order of operation changed slightly. My wife got really good at finding little jackpots shopping at Goodwill and yard sales, to then turn around and sell it for a profit. Having a phone that has internet makes this process much less of a guessing game because you can search Ebay to see what things are going for before you buy them. My wife has made as much as $800 in one month by doing this.
Goodwill (Buyers)
Yard Sale (Buyers)
Ebay (Sellers)
Craigslist (Sellers)
Consignment Sale (Sellers)
Yard Sale (Sellers)
Goodwill (Donations)
Your Challenge of the Week
Now it's time for some questions. Your answers will indicate exactly how serious you are about getting rid of your debt. Answer the questions below in a short video that you will post on YouTube, Vimeo, or Facebook.
Video Details
Videos must be uploaded by midnight on Saturday. (Provide me with a link to your video via email.)
Videos must contain all of the questions and all of the answers from this challenge.
Videos must have "Enemy of Debt's Race to Freedom Video Challenge" in the title of the video with the tags "debt elimination, enemy of debt, race to freedom, video challenge" and place "www.enemyofdebt.com" anywhere in the video. If you need help with this let me know.
To take advantage of full accountability, your videos should be of you facing the camera as you answer the questions. Think of it as confessions, therapy, and even a way to help others learn from your journey. If you want to remain anonymous, I will allow videos that do not contain video footage of you answering the questions. If you want and know how to blur your face, or would rather use text and pictures to introduce yourself feel free to. I want to encourage all of you, however, to take the big leap by holding yourself fully accountable. You will be more likely to give it your ALL! 😀 (Remember that I put myself out there big time even though I really didn't want to with regard to my weight, in order to hold myself accountable.) I have used Windows Movie Maker and of course my webcam software to make videos.
Questions
***Since this is the first video, take about 30 seconds to introduce yourself and explain why you decided to join this challenge.

When you think of selling your stuff, what is your initial reaction? Your spouse?
How willing are you to part with big and fancy items like big screen televisions, vehicles, "toys", and other gadgets?
Do you think you suffer from Stuff Attachment Disorder? (<— Read this post to see)
Was the accumulation of your stuff, part of your debt problem, or most of it?
What factors will you consider to determine what stays and what goes?
Is your desire to become debt free bigger than your attachment to your stuff? Why?
If you were to guess, how much money do you think you can come up with by selling your stuff by the end of March?
Let's Get Started
This will be a defining moment in your journey to become debt free. Do you have what it takes to speed up your struggle, or will you tread water the whole way fighting for your life? Don't think for a second that you do not have it in you to make this happen. Believe in yourself and be confident in your decision to change your life forever. My wife and I sacrificed in the beginning and most would have considered us to be extreme, but it is worth mentioning that the folks that think that are probably still in debt today. Pull that band-aid off quickly and end your struggle right now!
I will be posting the Debt details post this week as well so everyone knows where you are starting. I would like to have a picture if possible. For everyone who submitted debt details to me, expect an email from me this week with more details about the Race to Freedom challenge. Remember, I would love to talk with all of you so I can get to know you and offer any support I can during this journey. You are more welcome to text me, email me, call me, or even send a voicemail to my Enemy of Debt hotline.
Good luck everyone! I know you can do this, or I wouldn't have asked you to do it. Take this challenge seriously and reap the rewards. Your motivation will skyrocket, your confidence will soar, and your debt will most certainly shrink!!
How bad do you want to finish the Race to Freedom?
Readers: I would like to challenge you to answer the questions yourself in the comments section below. Maybe you could have your own yardsale to make some extra money. Take a moment to help motivate and encourage those participating to fight for the finish. Where do you stand with your stuff?