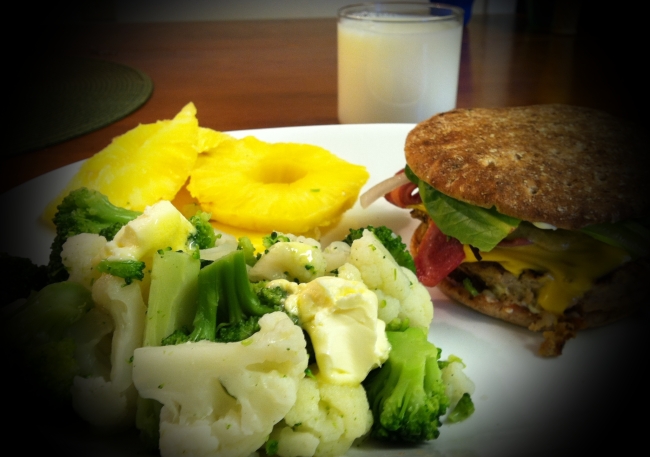 Hello everyone. There will be two parts to this article. First, anyone who participated, "officially" or not, in March's Yard Sale Challenge, will need to email me some information regarding that challenge. And secondly, I'll introduce you to April's No Eating Out Challenge. Are ya ready?
We only had 4 ladies, officially known as the Fab Four, who participated in last month's challenge. I would love to have more people become involved as we progress through the year. My Race to Freedom reality series as it was originally envisioned has been scaled down to a much less formal competition. Honestly, it's really not a competition at all. The goal is to encourage and inspire as many of you as possible, to pay off as much debt in 2011 as you can.
The Fab Four has already started the race, but perhaps you're still undecided about whether or not to get involved. Maybe you'll jump in on April's challenge, or maybe you'll wait until May. I've decided that since I didn't want to turn anyone down who was interested in joining the Race to Freedom, anyone can join in at anytime they wish. The main reason for this is because if a new reader visits Enemy of Debt, I want them to feel welcome and encouraged to join in. I really would have loved to see my original idea at full capacity, but I do not give up that easy.
My hope is that over time, more and more of you will be willing to jump onboard the debt elimination train! This will be an ongoing thing here on Enemy of Debt as long as I continue to have active participants. I would just like to ask you to take any commitment you make seriously. If you realize it's not for you at the end of the month, you won't ever have to do it again, but give it your all for the month you committed to.
All of you are welcome to become animals in your debt elimination journey! The idea is to get it GONE once and for all! Your journey will depend on how fast or slow you want that to happen. It's completely up to you, but I hope to inspire and motivate you to dig a little deeper than you normally would. As they say in P90X, I want you to BRING IT!
Step outside of your comfort zone, and remember that no journey is without folly. You will mess up, but you can recover and still reach your goals. Go for it!
March's Yard Sale Challenge
If you participated in last month's yard sale challenge, here's what you need to do. Send me an email answering the following questions.
How much debt did you pay off total in March?
How much money did you earn by selling stuff in March?
Were you able to use all of it to pay extra on your debt?
Would you do this challenge again in the future to help you pay down your debt faster?
What did you love or hate about this challenge?
April's No Eating Out Challenge
Well here we are. It's April already, and time for a new challenge.
As most of you know, in November, I challenged myself to No Restaurants in November. The idea was for me to save money because we have a bad habit of eating our WAY TOO MUCH. I would say that the problem has not been treated, only diagnosed. November proved, without a doubt, that we were spending way too much money eating out. We have since went back to pre-November eating out levels so I will be joining you in this challenge as well. My results from the November Challenge.
After discussing it with my wife, we came to an agreement on how we would do it this time. Instead of not eating out at all, something we definitely wouldn't want to do every single month, we settled on a compromise. Since no eating out at all isn't sustainable for us, we are going to allow ourselves to eat out no more than 4 times a month, on a budget of $120 max for 4 people.
That's what we're doing but I want to remind all of you that while we were paying off debt there was a long stint where we stuck to no eating out so we could become debt free faster. It was worth the sacrifice, but now that we're debt free, we don't have to be as intense. We can loosen our belts a little. With that said, if you are in debt, I hope you give no eating out for a month a try. It's only a month.
You can do anything for just 30 days!
The point of this is two-fold. First, I want to challenge you to save some extra money to help you accelerate your debt free progress, but I also want to help you gain control of something that can get to be VERY EXPENSIVE if you're not careful.
**If you do not eat out then this challenge might not be for you, but perhaps you could find other creative ways to increase your debt snowball payments.
Remember: This is a challenge, it shouldn't be easy and it shouldn't be what you normally do. You should be able to step up your efforts to make this hard but worth it!
If you are joining in on this challenge, answer these questions in the comments section below.
How many mouths are you feeding?
How much do you currently spend each month eating out? (on average)
What is your grocery budget for April?
What is our eating out budget for April?
How much debt are you hoping to pay off this month?
GO FOR IT!
The Rules of the Road
These are the rules I used for myself back in November. I am sticking to these rules but instead of not eating out at all, I will be doing what I stated earlier. Eating out no more than 4 times a month, on a budget of no more than $120.

Eating out consists of buying any food from any place that could have been made at home.
In other words, everything you eat or drink will have to come from the grocery store — no exceptions!
No snack machines, or convenient store foods or snacks. (For us this would include Starbucks Coffee, because we can make coffee at home much cheaper.) This will be hard for my wife since she is the only coffee drinker in our house, but she is ready to make this sacrifice in order to win financially. (She is my hero!)
Specifically track your grocery spending on paper. (Record

EVERY

dollar spent on food.)
Save as much as you can! Track and record your savings each and every week! (also on paper)
Editor's Note: If your business meals and eating out costs are due to traveling with your company, it does not count against you in this challenge. If you are not paying for those meals, or are reimbursed, you can still take my challenge and succeed!
How much can you save for the month of April? FIND OUT!
Good luck to you all!
Let's get started! 😀